Who doesn't love getting paid? But are you willing to pay to accept money from your customers?
Probably not!
Though the golden days of using traditional cash registers are long behind, there is still some resistance to accepting modern-day technology like a point-of-sale (POS) system. Business owners looking to make the most out of their transactions need to invest in a POS system.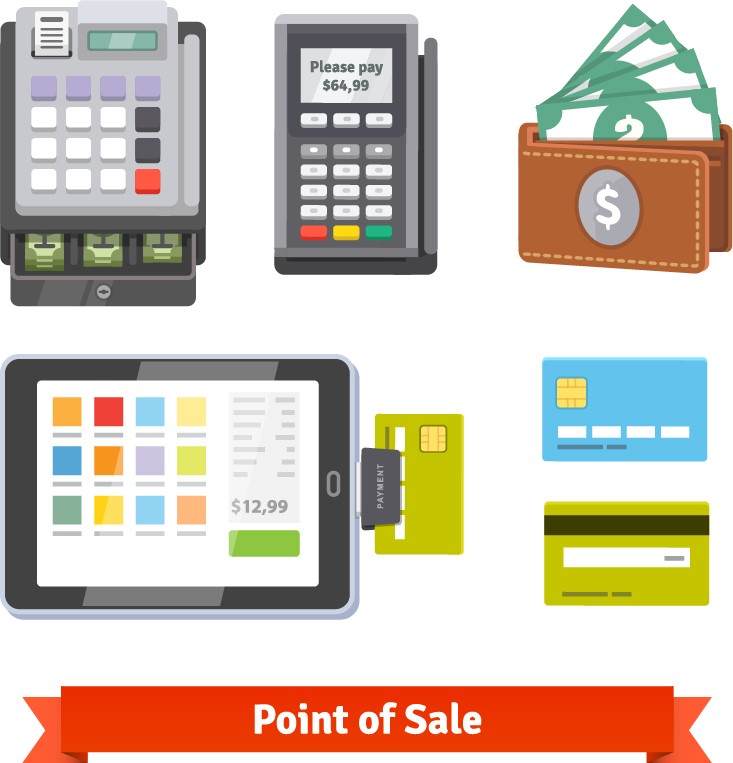 With 61% of retailers considering an investment in a cloud POS, this system could be a game-changer for your business.
Whether you're a retail business, restaurant, or any other small business, a POS works like a central component for your business. It's much more than just a way of collecting and processing payments. From inventory management to sales reporting, it's a solution you will never repent investing in.
However, with a bouquet of POS systems available in the market and each promising you to take your business to the next level, it becomes challenging to choose one that can make a difference to your bottom line.
In this article, we will explore the best POS systems and understand features to look for while making a purchase decision.
Let's do some exploring!
5 Best POS Systems 2021
The top 5 POS systems of 2021 are:
1. LightSpeed
Among small businesses of all types, LightSpeed is fast becoming a preferred choice for small businesses. Lightspeed's Point of Sale system is the most appealing and one-of-a-kind solution because it tailors individual POS systems to suit your business.
Apart from collecting customer payments, this incredible tool helps you stack multiple variants in different sections, create product bundles, give detailed insights into your business, and helps in employee management and customer profiling.
The tool helps you manage everything across multiple stores from anywhere using your iPhone/iPad, laptop, or desktop.
From inventory management to marketing management to customer management – it's your one-stop destination to manage your small business.
Ideal for: Retail and restaurant businesses
Why use the LightSpeed POS? It provides an easy-to-use platform, offers contactless payments, and supports all payment types. With LightSpeed, you don't have to break your sweat to train employees on taking payments from anywhere.
Pricing: Offers a 14-day free trial, and the Basic plan starts at $69 per month when billed annually.
2. Shopify POS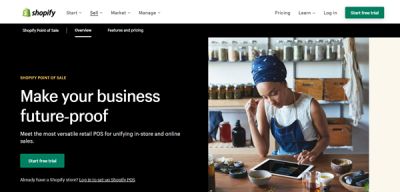 Intuitive design and comprehensive customer support are two features that differentiate POS from Shopify from others in the market. Regardless of whether you are an online business or a brick-and-mortar store, or both, this powerful system can handle all sorts of your sales transaction.
From supporting frictionless returns to creating fully synched customer profiles and integrating loyalty programs, the POS is a lethal weapon in your arsenal to turn one-time shoppers into lifelong customers.
Other features of the POS include:
Sales and inventory management
Unified analytics
Customer payment and checkouts
Customer orders and gifts
Marketing management
Interestingly, its POS system and back-end application can work seamlessly on Android and iOS devices. It's a tool that can enhance your customer experience, eventually reflecting in your bottom line.
Ideal for: Retail business
Why use Shopify POS? The system unifies your in-person selling and online sales that helps in strengthening your sales conversion. Also, local pickup and delivery and features to sell products from any location can help you connect with more shoppers.
Pricing: Offers a 14-day free trial and with a Basic plan starting at $29 per month.
3. Square POS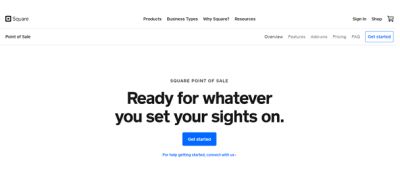 This powerhouse for merchants is renowned worldwide for its flexibility and transparent pricing.
The flexibility which this system offers allows you to take payments from any method, even through standalone terminals. Also, the POS system can work for one-time pop-up stores and even for established sellers.
Regardless of whether you're a fast-food joint or a grocery store or run an online business – Square POS could be an answer to all your sales transaction-related miseries.
Apart from sales transactions, Square POS is capable of customer and employee management and lets you access various reports that illustrate your sales summaries and trends.
It's a tool that helps you scale your business without worrying about effectively managing it.
Ideal for: Small and medium businesses
Why use Square POS? It offers an easy-to-use platform that is completely customizable based on your business needs.
Pricing: The POS is free to use, and you only pay when you make payment.
4. Toast POS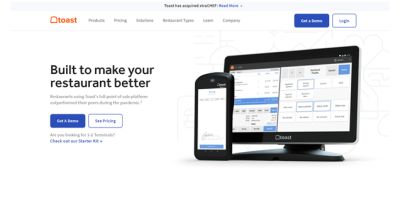 As the name suggests, it's an exclusive POS for restaurants looking to scale their business. Toast POS system sets itself apart from the competitors by using a secure Android platform over the iOS platform.
Irrespective of whether your restaurant or foodservice joint focuses on in-person dining or takeout options, this system will help you better serve and cater to your customers.
Interestingly, its order management feature accepts orders from customers and kitchen workers. Also, it immediately notifies when the meal is ready for serving.
With a promise of high-end security, this POS can collect payments through credit cards and even EMV.
Ideal for: Restaurants and food and beverage vendors
Why use Toast POS? The intuitive software helps you manage menus and streamlines your order processing system. It's a unique solution offering the benefits of both POS and payments.
Pricing: The Essential plan starts at $165 per month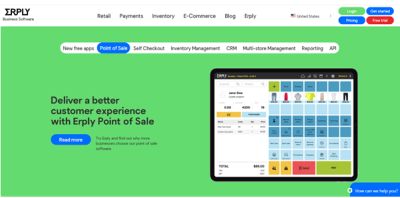 Unlike most POS systems that run either on Android or iPad, ERPLY works on both. Also, you can access it on any other device using your browser.
It lets you centralize your inventory across your franchise stores and manage employees by
providing access to this platform.
Some of the functionalities include void and return a purchase, time-controlled promotion, sales commission, suspend sales, and support for multiple stores.
Ideal for: Small and large franchises
Why use ERPLY POS? It works on any hardware, works with most payment processors, and is a full-service point of sale system.
Pricing: $19 per month for small shops without inventory
5 Features to Look for in a POS system
All the POS offers some basic functionalities like accounting, inventory management, customer management, sales reporting, and employee engagement. It can become an uphill battle to choose one. Let's explore the five features you must consider when purchasing a POS for your business.
1. Software feature
A good POS helps you get paid in a method that your customers prefer. Your customers may make payments in many ways, and the POS you choose should depend on its ability to handle credit cards, cash, checks, and debit cards. Keeping the COVID-19 pandemic, some may offer contactless payment options like Google Pay or Amazon Pay.
While some POS systems may offer payment using MasterCard, VISA, or Europay. This is an advanced feature and may not be suitable for every business, especially for small vendors. Also, systems that offer this functionality are usually pricier than their counterparts.
2. Customizability
No two businesses are the same, even when they're rival competitors. So, why settle for a standard POS system?
As the requirement for every business is different, you need a POS system that is fully customizable and tailored for your business requirement. From a customized dashboard, receipts to customized sales note and quick keys, buying a POS that offers customizability is essential.
3. Hardware considerations
You win half of your battle if you find a POS offering customization and desirable software features.
By giving weightage to the hardware considerations, you win the remaining half.
Today, one of the most sought-after hardware considerations most businesses look for in such systems is mobility. It means that your POS system can help employees process payment in the store, at an outdoor pop-up store, online, or at an expo. Many systems offer a small dongle to connect to any tablet and swipe cards on the go.
Keep in mind the operating platform on which your POS works – as it could make or break your decision.
4. Security features
In 2019, Catch Hospitality suffered a malware attack on their POS, and it shook the world and made small businesses wary of investing in systems that offer robust security features.
To avoid being on the hit list of cybercriminals, choose a system that provides end-to-end encryption. Also, to ensure customer confidentiality, look for solutions that have firewalls and security measures integrated into the POS system itself.
5. Customer support
With the business landscape seeing a paradigm shift and many businesses, including restaurants and retails stores operating beyond the traditional 9-to-5, offering 24/7 customer support is a desirable feature in a POS system.
For example, encountering a problem in the middle of your midnight sale could be harmful to your retail store. But, if your POS offers round the clock customer support, these glitches can be rectified before it turns into a tsunami.
Investing in the best POS system
Purchasing a POS system is a subjective thing because different businesses have different requirements. What may work for one business may prove detrimental to another.
Although you must consider your business's unique need, we think that LightSpeed outclasses every other POS system regarding ease of usability, security, functionality, and acceptable payment methods. It's a robust POS system that can help a business build a solid point-of-sale base.
Which POS system are you planning to use? Which POS features helped you make a decision?
Share your thoughts with us!