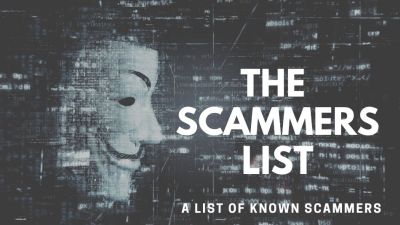 Here's the truth:
Scammers are everywhere on the internet these days.  There is no way to get around it. And over the last couple of weeks, I've been taking my time to put together this list.
This list is unlike any list you may have seen before because this is a list of known scammers by name.  This could be a person's first name, a website address, the name of a company,  even an email address.
This list will be formally known as The Scammers Lists.  Today so many people are getting ripped off by these cons that I felt compelled me to start a list of known scammers.  However, this list of scammers is by no means a complete list.
This list is just a start of known scammers and a way to turn in scammer's names.  With this list finding scammers on the net will benefit us all by exposing these criminals and helping others avoid getting scammed.
Next, feel free to add to this list by leaving a comment.  By contributing your information everyone benefits.   On the same end of the stick if you have reached this page make sure you read the comments because they will contain the best information of all.
If you are planning on leaving a comment list the scammers name, how they contacted you, and what they said.  Give as much detail as possible.   Over time I will add more names to the list as readers bring more names to my attention.
Finally, there were a lot of names I've come across over time that was reported to me as being scammers.  However, I have not listed most of these names due to the fact that I couldn't verify whether these names were the names of real scammers.
The List Of Scammers Names
Milton Hayward. This scammer is actually the name of a company.  In fact, there are several people involved in this scam of which all names I will mention next.  Milton Hayward is basically stock scammers based out of China looking to sell people bad investments.  You can read more about Milton Hayward here. Other scammers that are associated with Milton Hayward are John Hayward, Dave Basset, John Cannon, Mark Harvey, and Micheal Gellard.
[email protected]. This email address has been on tons of email scams from PayPal scams to top-name banks.  You may have also seen this email address spelled differently like this [email protected]  Either way if you see this email address your likely looking at a scam.
[email protected]. Again, the same as the last one.  Just a different word used.
Createw8. This the name of an X-eBay user who was scamming people on eBay by claiming to sell them a product.  This user no longer exists on eBay but likely to have just changed their username to something else once eBay caught on.  You can read more about this scam here.
[email protected]. This is another PayPal scam email address.  An email address from PayPal should say intl.paypal.com, not this one.
Add A Name To The Scammers List
Above, I have tried to give you a few of the known scammers that I have recently come across.  Now it's your turn to share your knowledge so we can turn in scammers and stop them from ripping off more people.
Chris
Updates
Recently a friend of mine, Steve, also mentioned to me that he had been scammed by an eBay seller and his eBay user ID is yorkxas and the email he used was

[email protected]

.  If you come across this user stay away.