Looking for a tool or resource I mentioned on my site?  It can be hard to find them back when you have to dig through over 600 articles on Stumble Forward.  To help with this I've put together this resource area to help you find what you are looking for easier.
I should also mention I am an affiliate of some of these products.  This means that I will earn a commission if you would happen to sign up or buy the product.  This in no way means you will have to pay more for the product, in fact in most cases I usually will have a discount code to help you save money.
I also personally DO NOT recommend a product or service unless it's something I personally use and like.  This has been a strict policy of mine from the very beginning and one I intend to keep.
My Most Recommended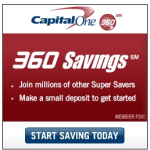 Capital One 360 Savings.   One of the most important financial tools everyone should have in there arsenal is an emergency fund.  In fact, I recently just switched to the Capital One 360 Saving program for several months because this account carries no fees, has a much higher savings rate than my local bank's savings account, and best of all I can put everything on automatic so it makes saving a breeze.  Click Here To Sign Up For The No Fee Capital One 360 Savings Account.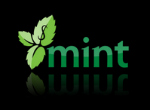 Mint.com.  One of my biggest regrets with my finances is not paying attention to my them enough.  I've learned that the more I pay attention to my finances the more I save, the more I earn, and the better life gets.  To manage this I use Mint.com, a free online budgeting solution.  With this program I see exactly where every penny is going and best of all I can do it from my laptop or my smartphone.  Click Here To Get Your Free Mint Account Today And Start Paying Attention To Your Finances.
Credit
Credit Karma.  If you are looking to a free way to check your credit score Credit Karma is the perfect solution.  It not only gives you one free credit score but it also has a great credit tool that allows you to test different things against your credit such as, what would happen to your credit if you added a new credit card, paid a debt off, or even filed for a bankruptcy.  Click Here To Sign Up For Credit Karma.
Free Annual Credit Report.  Of all the different places you can get your credit score online Annual Credit Report is the only one that does it for free.  With ACR you can get all 3 of your credit reports for free each year to see exactly what is on your report.  The only down side to this product is that you will have to pay to get your credit scores.  Click Here To Check Out Annual Credit Report.
Debt Relief
Debt Reduction Spreadsheet.  When it comes to paying off your debt their is a right way and a wrong way.  One of the best ways I've found is the free debt reduction spreadsheet offered by Vertex42.  All you have to do is input your debts, minimum payments, and the amount of debt you have and this simple little spreadsheet will put an organized plan together for you to pay off your debts.  Download The Debt Reduction Spreadsheet Here.
Investing
FINRA Mutual Fund Analyzer.  Want to compare mutual fund cost and returns.  This is a great tool to help you see if you really are getting the most bang for your buck with your investments.  I wrote an article a while back comparing Vanguard Funds Versus Transamerica Funds and you would be amazed at the results I found.  Click Here To Check Out The FINRA Mutual Fund Analyzer.