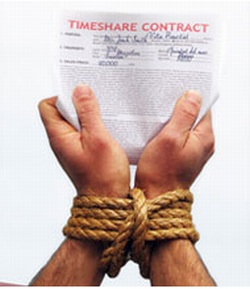 Are you in the market to buy a timeshare?
Today timeshares are everywhere, eBay, Craig's List, and hundreds of other sites around the web and abroad.
In this article, I'm going to be covering 10 things you should know about timeshare scam companies before you buy one.
1. They Use Hard Sales Tactics
The first thing you got to know is that timeshare resorts will use any hard selling tactic they can to get you to buy.
When I was looking at buying a timeshare we were crammed into a room for over four hours.
They basically wanted to keep you in there till you cracked and that's exactly what they do.  In that time they will say anything to get you interested.
If you've ever seen the movie Boiler Room you'll know exactly what I'm talking about.
2. They Will Give You Anything To Get You To Buy
Next, a timeshare scam company will give you anything to get you to say yes.  First off, they will wine you and dine you.  They will take you out to eat at their resort restaurant to show how great their resort is.
Second, they will give you a free vacation usually for just checking them out.  This is actually the only benefit I could find to going to a timeshare meeting.  However, you may want to read the fine print beforehand.
The resort I got my free vacation from was real but had a restriction that we had to be 25 years of age to use the voucher.  We of course couldn't use it since we were only 23 at the time, how covenant for them.
3. High-Interest Rates
Third, one of the biggest timeshare scams is that resorts will give you a high-interest rate on the loan you take out for your timeshare.
A typical timeshare ranges from $5000 to $20,000 or more and will charge ridiculously high rates.
In fact, my loan on the timeshare I bought was right at 16% and the resort claimed I could get it refinanced once I got back home.
However, instead of refinancing the loan, I decided to just pay it off and avoid all the refinance fees.
4. Maintenance Fees
Fourth, every timeshare has maintenance fees.  The reason resorts charge this fee is that once you sign on the dotted line you will in a sense become a part-owner of the resort.
The resort will then charge a maintenance fee to cover the cost to run the resort.  However, this doesn't mean it's cheap, at my resort I paid around $350 a year and the fee increased as much as 10% every year.
5. Club Fees
Fifth, once you buy a timeshare you will have to pay a club fee in order to bank or exchange your timeshare.  I'm not sure if this is required or not but the resort I bought mine from said we had to have it.
The first year of the service is usually free but after that, it will cost you.
A typical annual fee runs around $60 to $100.  However, if you buy for a longer term you will usually get a cheaper rate.  If would like to learn more about these company check out Interval International.
6. Exchange Fees
Once you own a timeshare you may not want to go to the same resort all the time.  If that is the case you will be able to exchange it using companies like Interval International.
However, this will also come as a fee as well.  The typical fee to exchange a timeshare with another resort will run around $100.
7. Impossible To Sell
Seven, timeshares are next to impossible to sell.  I tried selling mine and it took over 4 years to get rid of it.
In fact, I recently got an email from someone who said they were in desperate need to sell their timeshare.  It this almost a regular occurrence for me to get one or two emails like this every month.
I really feel sorry for these people, especially when I hear that they still have a loan out and can't get even one offer on the property.
8. Timeshare Resale Companies Don't Work
Eight, one of the things people will do in order to sell their timeshare is getting in touch with a timeshare resale company.  The short and sweet of it is they just don't work.
I bought into two different timeshare resale companies and never received one offer in the two years that I had the ads out.  I even called these companies and they claimed they were busy at work trying to sell my timeshare.
The typical fee with a company like this is around $600 and the worst part is they offer no refund at all.  My best advice for you here is to just avoid this timeshare scam altogether.
9. Timeshares Don't Increase In Value
One thing I learned the hard way with timeshares was the fact that timeshares do not increase in value.  This was probably the biggest lie I've ever heard a timeshare salesman say.
The reason they don't increase in value is that when you buy a timeshare you aren't buying an actual piece of land but rather just a piece of time, one week to be exact.
Since time itself doesn't increase in value the value of your week doesn't increase at all.  In fact, in most cases, they actually are worth a lot less when going to sell, which brings me to my final point.
10. No Return On Investment
Finally, the worst thing about a timeshare is the fact that you will not get back the money you originally paid for the timeshare.
However, there is always that outside chance that it might happen and if it does please leave a comment I would love to hear your story.
In my situation, I bought my timeshare for $4500 and ended up selling it back to the resort for $400.  The reality after 4 years of trying to sell the timeshare I couldn't even find even one buyer.
Your Turn
Now that I've educated you a little more on buying a timeshare are you still going to buy one?
I don't want to scare you away from this if you have your heart set on it but my goal in this article is to point out some of the major pitfalls that go along with a timeshare.
In the end, I hope I've educated you enough to help you avoid the timeshare scam companies and not get ripped off as I did.