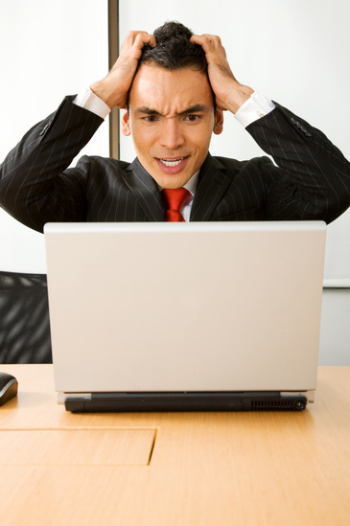 If you're reading this you've probably had your email address hijacked, and if not you may consider yourself one of the lucky ones. Having your email hacked can be an excruciating process so in this article I'm going to show you what you should do if this happens to you, or maybe it already has.
Who Is The Most Susceptible
Back a few years ago one of my brothers web clients had her email hijacked. Things started out simple enough when she received an email from her email provider claiming that her email may be getting hacked and that she needed to log in immediately to lock the account.
So she clicked on the link provided in the email and it brought her to her Hotmail account log in page or what she thought was her log in page. She then signed in and in that second she handed over her entire email log in details to a group of scammers who immediately logged in to her real email account and changed the password.
Sadly, this scam is an all to common story on the internet.  However, do you know who is the most likely to be hit by this scam?  If you answered anyone who has a Gmail, Yahoo Mail, or MSN Mail Account you are correct.  The reason for this is because the scammers can access the log in pages so easily with these free email providers.
In fact, scammers will actually build websites that look exactly like these sites all to get you to input your log in details and gain access to your email account.
So now that we know who will be the most likely to get caught up in a scam and what to look for let's look at what you should do if you have had your email hacked.
My Email Has Been Hacked – Now What?
Step 1: The Point of No Return.  If your email has been hijacked the first thing you need to realize is that you are not going to get it back.  In most cases once your email is gone you have little if any chance to get it back.  Now if you are one of the lucky ones and have managed to get it back please share how you did this in the comments below.  I'm sure our readers would be interested in how you achieved this.
However, in the case that this does happen to you one thing you could do is back up any important emails to your computer or to an online back up service such as Carbonite.
Step 2: Contact Everyone On Your List.  The next thing you need to do is get a hold of everyone that was in your contact list and let them know that your email has been hacked and to remove it from their contact list and not open any of the emails.
The reason for this is because scammers will likely send out emails.  As in my brothers case he received an email from his client claiming she was stranded in Europe and that she needed $2000 in order make it home.  In fact it wasn't until he got this email from his client that he knew her email had been hacked.
When it comes to contacting these people on your list you may have to call them individually, use your spouses email, or even a secondary email address if you have one.  This is an instance were having a second email address can come in very handy.  For example, if your Gmail address is your primary address get a Yahoo Mail address as a backup.
Step 3: Change Your Passwords.  Finally, the last thing you need to do is change any and all passwords associated with that email address.  One thing you can defiantly count on is that these scammers are going to sift through your email archives to find any kind of sensitive information.
This could be log in details for your PayPal, eBay, and Amazon accounts.  It could even be sensitive bank information.  The point is any info these scammers can get their hands is going to use to their advantage.  So one of the best things you can do is to keep a list of all the places you use your email address at, so when you do get hacked all you have to do is change the passwords on the list.
Has Your Email Address Been Hijacked?
If your email has been hacked share your story with us.  Tell us how it happened to you and together we can hopefully protect others from getting hit by this terrible scam.  Feel free to share your thoughts, questions, comments and tips below.
Cheers!
This article was recently featured in the Carnival of Personal Finance by Diva In Debt.