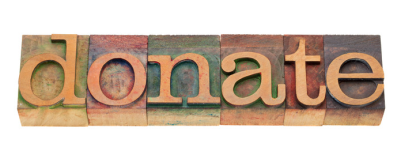 So you've tried every possible idea you can think of to sell your timeshare.
You've tried everything short of timeshare resale companies to do a buy-back option through your resort and nothing seems to work.
You are at the end of your rope and you just want to rid yourself of this retched timeshare.
In this article I'm going to show you another option, I'm going to show you how to donate your timeshare to charity, and along the way, I'm going to give the good and bad points as well as where to donate it to for the best results.
Benefits To Donating Your Timeshare
First off, when it comes to donating your timeshare one of the big benefits is that the process can be fairly painless and easy to do.  All you have to do is sign a few papers and it's gone.  Face it, it takes a lot of willpower to sell a timeshare these days simply because many people are just not buying, and by donating it you will avoid a lot of these hassles.
Back when I was first looking to sell my timeshare I had no idea where to even start, where to find a buyer, or even what forms I needed in order to sell it.  I tried for 2 years to sell my timeshare on my own and had no luck at all.  However, by donating your timeshare to charity the process becomes fairly simple.  ( I'll explain this later in the article.)
Secondly, donating your timeshare allows you the opportunity to get a tax write-off.  For example, if your timeshare is valued at $4500 and you've earned a total taxable income of $50,000 it would bring your total taxable income down to $45,500.
Finally, when you donate your timeshare you won't have to hassle with all the extra fees that you might have to pay when you sell your timeshare yourself.
Disadvantages To Donating Your Timeshare
So now that we know donating your timeshare to a charity can have some great benefits you should also know that there can be some steep disadvantages.
First off, you cannot donate your timeshare to a charity unless it is completely paid off.  The reason for this is because charities want to sell your timeshare to earn money for their organization does not get stuck with your debt.
Secondly, in order to get a tax deduction for your timeshare, it needs to be an itemized deduction which can be tough depending on your situation.
On top of that if want to claim a value higher than $5000 for your timeshare you will be required to get an appraisal and the typical cost will run around  $500 and higher.  This can be an even bigger pain in the butt if your timeshare is located in a different country to boot.
Finally, the last thing you need to understand is that a charitable organization is not going to accept your timeshare just because you have one to get rid of.  This goes back to the point I made early, charities want to raise money and if they can't sell your timeshare they don't want it.
Getting Started
Now that you've considered the various points let's look at what you need to do to get started.
Step 1: Gather the necessary paperwork.  To start you will need to gather the necessary paperwork in order to donate your timeshare.  Below is a list of things you should gather.  I got this from the Timeshare Trap, so check them out to learn more.
Resort Info.  Name, address, and phone number.
Deed.  You will need the deed or certificate of ownership.
Exchange Company.  Which exchange company is your timeshare affiliated with?  (Ex. RCI, Interval International)
Maintenance Fees.  You will need to know the amount owed, and the due date they have to be paid.
Taxes. If you have to pay real estate taxes you will need to disclose this as well.
Loans.  If you still have a loan on your timeshare you will have to disclose this.
Membership Info.  You will need your membership identification.
Step 2: Contact Donate For A Cause.
Next, you will have to contact Donate For a Cause.  Here you will have to fill out a simple form or call them directly. From there they will contact you within 3 to 5 business days to disscuss your timeshare with you.  To do this checkout Donate For a Cause Here.
Step 3: Complete The Nessisary Paperwork
Finally, the last thing you need to do is complete the necessary paperwork to get accepted.  Once this is done the DFC will do an analysis of your timeshare property and see if it fits their criteria.
Typically what this means is that if they can't sell it they don't want it and like I mentioned before they won't take on every timeshare, just the ones they can make a profit on.
What To Do If You Don't Get Accepted
Finally, if you apply for the program and you can't get accepted for one reason or another don't give up.  There are other organizations that may possibly take on your timeshare.  However, one word of advice is to beware of scammers.
If a company you contact is asking you to pay a large sum of money upfront in order to donate your timeshare beware.  Typically these companies do not charge much if anything at all to donate your timeshare.
As with Donate For a Cause, you will only have to pay a fee of $25 if the DFC has to request a new deed or a $75 fee for an affidavit of death in the case that the owner of the timeshare has passed away.
In the end, this entire process can take as much as 8 to 12 weeks or more to complete depending on the resort. So be patient.
Are you planning to donate your timeshare or have already done it and would like to share your thoughts, questions, comments, or tips.  Feel free to leave them below to help those who are looking to complete this process on how to donate a timeshare to charity.