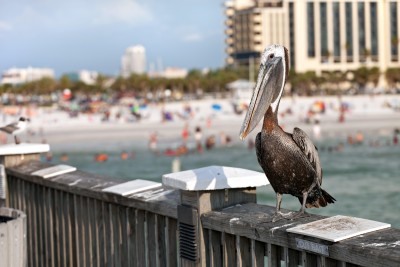 Being home to 3 of the 10 fastest-growing metros in the US, Florida has seen an economic evolution that outpaced that of the nation, according to a report by Wells Fargo.
Developments in the area also lead to an almost constant increase in population, which was also helped—among other things—by tax limitations.
As people look at the state and expect to see an emerging tech hub there, more people are expected to move and start renting in Florida. Orlando, Tampa, and Jacksonville are among the largest renter hubs in the country.
As such, it does well to learn a little about the rental market in the state, if you plan to move there for career opportunities.
Here is an overview of Florida's rental market:
North Florida
For North Florida, Gainesville was the most expensive city, with the average rent being $1,300 for October. Tallahassee's average rent reached $1,247, after a 0.6% increase from September. Jacksonville, the largest city in the state, has a rental rate average of $1,109.
Jacksonville
After a 0.4% increase in rents compared to September 2019, Jacksonville is still very affordable for the people who want to move and rent here. A lot of the people living here own their homes, but renter households take up around 37%, and this number is expected to rise.
Central Florida
In Central Florida, Oviedo saw the largest average in October, $1,788, while Orlando, Ocoee, and Winter Garden stayed in the $1,400 – $1,450 range. The highest month-over-month increase was registered in Port Orange, 1.3%.
Tampa
Tampa, FL, is one of the largest renter hubs in the country, with 45% of the households in the city being renter occupied. With a lot of projected growth for the local IT sector, Tampa seems to be on its way to becoming an important tech hub, which means that population growth is likely to increase as well.
As of October 2019, the average rent for an apartment in Tampa reached $1,339, after a 0.7% month-over-month increase.
South Florida
Most of South Florida's rental rates were higher than the other regions of the state, with Boca Raton, Weston, Doral, and Coral Gables seeing averages over $2,000.
However, cities in this region saw the largest decrease in rental rates compared to September, after rents in Tamarac fell 2.4%.
Miami
An apartment for rent in Miami goes for—on average—$1,704 per month. This is a very slight decrease compared to September this year. The owner-renter distribution in Miami is balanced, with 45% of the households being renter occupied.
A lot of the projects expected in the near future are focused in South Florida, and Miami will likely benefit from investments for residential, office, and retail projects.
If you're planning to move to Florida, make sure you do your research beforehand. There are plenty of opportunities, but the market shifts rapidly, and understanding the evolution of prices and rental rates will help you make a better decision when renting an apartment in one of the biggest cities in Florida.
About the author: Mihaela is a passionate reader and writer, with an affinity for language and linguistics, as well as the latest technological developments. She discovered her passion for real estate at RENTCafé, and you can read more of her articles on their blog.
Are you thinking about renting in Florida?