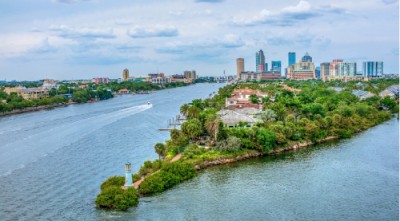 What do Mickey Mouse, alligators, and the beach have in common? You can find all these things (and much more) in Florida!
Florida is a beautiful state with white, sandy beaches and a booming economy. It's no wonder why so many people choose to live there. Current estimates place the population of Florida at around 21.65 million for 2019, based on numbers and trends from the 2015 Census Bureau survey.
Before you pack your bags and head down to the Sunshine State, you need to know which area of Florida suits your family the best.
That's where we come in.
We have toured the whole state to find the best neighborhoods in Florida to move to right now. Please keep reading to see which suburbs made our list.
1. West Chase (One of the Best Neighborhoods in Florida)
On the top of our list is a suburb of Tampa, which is next to Carrollwood (we'll get to that later on our list).
Everything you could want is in this little suburb. Good schools, restaurants, doctors offices, and grocery stores; all a short drive away.
Live the life of luxury only a few minutes away from the city of Tampa in this thriving suburban neighborhood!
2. Pebble Creek (Outside of Tampa)
This small community has about 8,000 residents and is easy to walk around for people of all ages. Community diversity is a big focus for such a small group. That is why it is drawing new residents from all walks of life.
Golfers love Pebble Creek for their amazing golf course at the Pebble Creek Golf Club. If you enjoy hitting the green, Pebble Creek could be your ideal location. So starting today, invest in high-quality golf bags for you to enjoy every golf game.
3. Winter Park (Near Orlando)
This suburb is north of Orlando and feels more like a huge park than a concrete jungle. If you like to live among nature, this is where you need to be.
Not only does this community value natural beauty, but they also enjoy the arts as well. With many museums and art showcases, this suburb is like a bohemian dream.
4. Fish Hawk (a Suburb of Tampa)
Families who have young children who want to live near Tampa should look at homes in Fish Hawk. Schools are close to each residential area and boast an A grade rating.
This little community is growing, but only about 14,000 people live there so far. If you would like to buy a home and watch the area grow up around you (and increase your property value) take a look at Fish Hawk.
5. Maitland (North of Orlando)
Yet another Orlando suburb on our list, Maitland is a hit with young families looking for a safe and happy neighborhood.
This city also has a rich history. You can delve into Maitland's past at the Maitland Historical Museum.
Because of the historical focus of this community, many of the buildings retained their old-world charm and aesthetic. There are also plenty of beautiful parks to complement the style of nearby homes and buildings.
6. Parkland (a Suburb of Miami)
This is one of the biggest suburbs on our list with a massive population exceeding 6 million. When you consider that this is a suburb of Miami, the population size makes a bit more sense.
Homes here trend towards the lavish side and come with a hefty price tag to match. If these picturesque and luxurious suburbs of Miami are where you want to be and you are ready to buy a Florida dream home, check these out!
7. Pinecrest (Outside of Miami)
If you like to see a heavy police presence in your neighborhood, ensuring the community is safe from all manner of criminals, Pinecrest is your place. One of the city's finest officers is sure to be around the corner if you need one.
A five-person Village Council governs the whole community and ensures that the neighborhood is clean, well cared for and that all the residents feel like family.
8. Heathrow (Best Suburb for Families)
Heathrow lies outside of the Orlando city limits, but it is the perfect place for families with children. This tiny, tight-knit community has only about 6000 residents.
Public schools have an A rating and the community is pretty safe from crime. There are also tons of things to do in the area, so your family will never get bored.
9. Horizon West (Best Suburb for Disney Lovers)
This is one of the states fastest-growing master-planned communities. To be a master-planned community, the neighborhood must be a larger residential community with many recreational activities and shops.
Horizon West is also a great place for families with kids because the schools boast an A grade rating. On top of that, this suburb is minutes away from the happiest place on earth, Disney World!
10. Carrollwood (Outside of Tampa)
This little community on the outskirts of Tampa is perfect for those who love the amenities of Tampa proper who don't want to live in the crowded city center. Less than 40,000 people live in this community, so you will have more room to breathe.
The public schools here run a B average grade, so families can rest assured that their kids are getting a great education.
It's Gonna Be a Bright, Bright, Sun-Shiny Day!
Those are our top 10 places in Florida to look for your next home. From the suburbs of Miami to Tampa, these are the best neighborhoods in Florida to live in right now.
Remember that every family has different needs, and while one neighborhood is ideal for one family, it could be miserable for another family. Be sure to choose a community that caters to as many of your family's wants and needs as possible.
Once you find the community that feels like home for you and your family, join the millions of people who consider this stunning vacation state their home.
We hope you loved reading this article and that it helped you decide where to look for your new home in Florida. If you know any other amazing Florida suburbs to live in, we would love to know. Please feel free to leave a comment below!