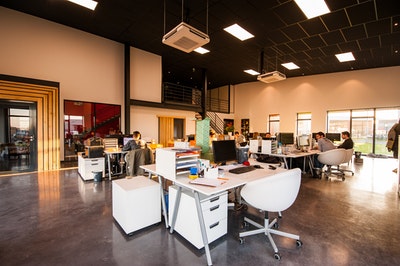 The last year's pandemic brought much of the world to a screeching halt as shops closed, businesses shuttered and people retreated indoors.
Lockdown restrictions and safety regulations meant that a lot of premium office space was vacated as businesses moved their operations or switched to work-from-home setups.
However, as vaccination programs across the world gather momentum, office space renters are slowly reopening their spaces.
Businesses are already exploring methods on how they can safely reintroduce their employees to an office environment. Smart property developers can use the time until the economy has returned to a semblance of normalcy to develop the premium commercial property for a hefty profit.
If you're on the lookout for purchasable land lots, you should seriously consider building an office for rent. Lucrative office spaces don't rely on fancy gimmicks or having the best Wi-Fi extenders. A truly profitable office space stems from the design.
Below are five tips for designing and building lucrative office spaces for rent.
1. Diversify Areas
Employers nowadays hope to woo new recruits with fancy recreation areas and assorted amenities. It stands to reason that they will also want to have different rooms in the office spaces they rent.
While it's tempting to just build one huge empty space after the other for cubicles, you should make distinct areas with special features.
For example, rooms with plenty of pull-down shades and opaque walls can be meeting rooms or office libraries. Meanwhile, rooms with plenty of carpeting and soundproofing can be exercise areas, nap rooms, and the like.
2. Focus on Accessibility
Accessibility matters to everyone, especially to people with disabilities. However, state and federal regulations already exist that enforce such rules. What this tip is talking about is physical access to your offices. How many ways can people come and go into the office space they're renting? Will two elevators be enough?
If you're planned office building is between two and four floors high, a pair of elevators may be reasonable. But any higher and you can be looking at a very congested elevator bay.
Are there enough doors to access the office? And how wide are these doors? These are all vital considerations if you want people to rent your office space.
3. Parking is a Premium
Over 90 percent of households in America have at least one car. Motor vehicles have become so important to society that industries catering to cars can be worth millions. One such aspect is parking.
Your commercial lot can be just as lucrative as a parking lot as it is an office building. Hence, when you're building your office space, make sure that it has ample parking spaces for future occupants.
Depending on the size of your property, there should be at least enough parking spots for 10 to 15 cars. This will ensure that at least some people won't have to pay for expensive parking spots around the area.
4. Natural Lighting is Key
Natural lighting is the best friend of any office space. Sunlight can have a rejuvenating effect on your office tenants, boosting their morale and making them more productive. It also dispels any gloominess that prospective tenants may find deeply unappealing.
When designing your commercial space, consider how best to utilize the sunlight. If your lot has a side directly facing east, talk to your architect about how you can ensure that the interior gets the best sunlight without suffering from intense glare.
Floor-to-ceiling windows may seem like a good idea, but remember that too much natural lighting can be just as detrimental as too little. Strive to strike a balance with your design that will allow control over how much sunlight hits your office space's windows.
5. Go Green
People are becoming increasingly concerned about the state of the planet's environment. As such, they're more interested in working for companies that make the conscious decision to decrease their environmental impact.
You can cater to these companies by ensuring your office spaces utilize new technology to reduce emissions and wastes. These measures can also lower the overhead for your building, making them eco-friendly and cost-effective.
For example, adding solar panels to the roof of your office space can defray some energy costs. And using wastewater for toilet flushing means you won't need to pay for such high utilities either. Investing in green design can mean attracting lucrative tenants and making it easier to run your property.
Real estate is a profitable industry, but you can secure your financial future by making smart decisions today. Building a well-designed office space is the perfect way to ensure your investments will only grow in time and develop into a truly lucrative enterprise.