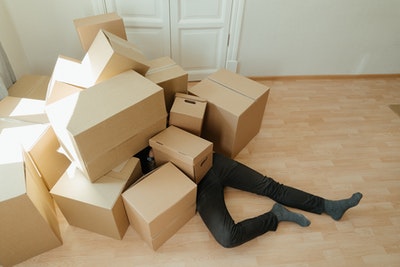 Moving to a new state is probably one of the most significant life decisions you will ever make. After all, you won't be moving just a few blocks or a place that is within proximity to people you meet regularly. Instead, you will experience a complete shift in how you live your everyday life.
That said, while the process of moving out of state requires a lot of pre-planning, it will be a whole lot easier if you're ready for it beforehand.
An out-of-state move is not as simple as just packing a few boxes and hitting the road. Instead, it involves considering the small details that allow you to save money, time, and energy without stressing too much.
So, by developing a solid moving strategy from the beginning, your out-of-state move will be less of a hassle and more of an exciting and enjoyable experience.
And to get you started, we've listed a few helpful tips below.
Sell or discard what you don't need anymore
While rummaging through your belongings and trying to get things packed, you will notice that you have a lot of unnecessary stuff with you, whether a piece of furniture, kitchen utensils, or any other item. Get rid of these items. Doing so will allow you to cut down on that clutter and make some money in the process.
After all, moving requires a lot of effort, planning, and, most importantly, money. So, it would be wise to sell a few of these unnecessary items and use the money you earn to hire better professional movers. Or at least cut down on your moving expenses since you'll be charged based on how much stuff you're shifting.
However, if you cannot part with some things because they hold sentimental value, look up some storage units near your new home and stash them there. Doing so will enable you to safely store such belongings and items for as long as you want. Not to mention, you can always visit your unit and take them out whenever you need them.
Hire the right professional movers
Professional movers will ultimately decide the type of moving experience you will have. After all, relocating to a new state involves packing and transporting tons of household items like bulky furniture and kitchenware.
So, it would be wise to hire reputable professional movers who are known to provide their customers with excellent cross-country moving services. Sure, you might say that you can always pack and transport everything yourself. However, ask yourself, do you really have the time and resources to do it? Probably, not.
But, before you hire the first moving company you come across, consider doing some research online and shortlist a couple of options. Then, try to find a few reviews for the professional movers you've shortlisted.
Lastly, hire one that offers you the best bang for your buck and insurance. It must also have the necessary equipment to transport your goods from one state to another.
Always stay organized no matter what
Regardless of the difficulty of your out-of-state move, you must never lose your cool and stay organized at all costs. You can always plan your move ahead and get things straightened out before the big day comes. Here, a moving checklist will come in handy.
It will allow you to jot down moving-related activities and tasks and check them off when you complete particular ones.
The fewer tasks you leave for the moving day, the higher your chances of remaining organized and remembering everything related to your move. So, ensure that you utilize a moving checklist to track everything about the moving process. You can find a few good apps online.
Ensure that your moving trucks have ample space
If you're thinking of moving to another state on your own, renting a moving truck that has ample space to accommodate all your belongings and items is a no-brainer.
Your car probably (read definitely) won't be able to fit all your stuff, and you'll have to make multiple trips back and forth to ensure everything reaches your new home. Such a thing will waste a lot of time. Not to mention, your fuel costs will go through the roof!
That said, if you have a lot of stuff that needs transportation, consider hiring multiple moving trucks. Sure, it will eat away at your moving budget, but think of the time and money you'll save when you don't have to make multiple trips. Ideally, one GIANT truck should be fine.
Don't forget to inform your utility companies
No one wants to walk inside their new homes after a long, tiresome day, only to find out that there is no electricity or gas because they forgot to inform their new utility provider. However, you can easily avoid this by telling your state's utility company a couple of months before moving day. Moreover, you would also want to pay any pending utility bills you might have.
Furthermore, don't forget to ask your utility company to switch off the electricity and gas supply in your old home. Doing so will allow you to avoid unnecessary utility bills when you haven't even used your old home's utilities.
Conclusion
There will come a time when you would just want the moving day to end so you can relax inside your new home.
However, always remember that things will never go according to plan. Your move will be full of obstacles that you will have to navigate to ensure everything goes smoothly.
That said, with the help of the tips mentioned above, your move will turn into something that you will enjoy instead of dread. Plus, these tips will allow you to save a lot of money, time, and effort required to make your move hassle-free!