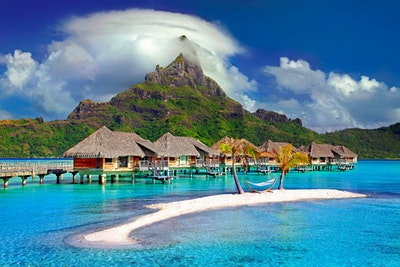 Well, as an investor, you're always on the prowl for trends that could thicken your wallet's bottom line. Nowadays, considering snapping up a vacation rental property might sound like a perfect idea.
After all, every one of us wants to enjoy some sort of escape from all the stress brought about by the virus. And you're spot on. As thousands upon thousands of Americans have succumbed to the virus and millions more infected, vacation homes demand is at an all-time high.
Indeed, cashing in seems but logical. But life is rarely black and white. As an investor, you should know that jumping right in can be fatal. As the maxim summarizes: Look twice before you leap.
In this regard, it's best to do your due diligence first and foremost. Explore two sides of the same coin. And while it's true there exist great rewards in investing in vacation properties, risks come with the territory.
Take note. There are a host of factors to consider before zeroing in on a vacation property. Here, we are giving you the top benefits and drawbacks of buying one during the pandemic.
The Benefits of Buying a Vacation Property
To boot, you should examine your financial situation. A secure financial standing can give you better choices. Even so, you shouldn't rush a sale, unless of course, you've done your due diligence.
If you have a chance to get away from it all, would you? Of course. It's a no-brainer. Thus, data from real estate analysis firm Redfin confirmed that demand for second homes has risen during the pandemic.
The real estate thinks tank compared mortgage rate agreements between banks and home buyers. While demand for primary and secondary homes was about the same before the pandemic, demand for secondary homes surged during the pandemic, specifically in late spring when movement restrictions were eased.
The first benefit you have in snapping up vacation homes these days is the lower-than-usual mortgage rates. It should surprise you. Think about it. A 30-year fixed loan may come with under 3% interest; a 15-year home loan could get you under 2.5% interest.
That should be a good sign for you. Low-interest loans free up your hard-earned cash allowing you to widen your investment appetite.
Second of all, this is crunch time. As many vacation homes have suffered trickling visits when the pandemic was still in its initial stages, many owners are feeling desperate. They want to cash in fast, thinking it's the best way to salvage their future. And that could mean discounted prices for you.
Thirdly, the timing could never be perfect. Health experts expect travel restrictions will ease up by mid-2021. Already, some states are relaxing COVID-19 movement limits this early. You could be on the cusp of seizing a wondrous investment opportunity.
The Drawbacks to It All
Hold your horses though. Buying a vacation home isn't exactly a walk in the park. It's a long and winding road.
The first drawback is inventory; it's rather low right now. The uncertainty of the pandemic is causing apprehensions and would-be sellers are sitting on the fence – not listing their vacation homes. As a consequence, property values right now are on the rise.
Not really good news for you. That means you will have to pay top dollar to snap up a good one. Making all the effort all the more herculean.
For the uninitiated, know that buying an immovable property (real estate) can command tons of your attention. Take note that the purchase isn't even consummated when you put your signature on the purchase offer.
You won't even own the vacation property after you've paid for it right then and there. Technically, ownership of the vacation property will only be official once the buyer's name (your name) has been registered in the Deeds of Registry Office.
In retrospect, this is exactly why getting an experienced conveyancing attorney is spot on. This legal professional will ensure your purchase of a vacation property not only moves forward smoothly but is consummated with your name on the registry of deeds.
The second drawback is you may have to spend more to make the property marketable. That's another consequence of low housing inventory: those that are available may not be top-shelf. In effect, you may have to spend some to hire contractors and factor needed renovations.
Last but not least is the state of affairs with the coronavirus itself. You really can't read the virus. There's no way to be certain that travel restrictions would be lifted all the way. It may even become an iron curtain with local travels banned. That certainly is risky for you.
So, it all comes down to your business acumen. It's really your call. Take time to do your due diligence. You may take some comfort in people who invest in stocks.
They say high-risk means high reward. The only thing is investing in real estate isn't exactly like investing in stocks. You're there for the long haul.