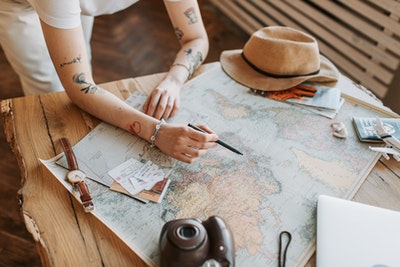 Besides the wonderful sunshine, the Spanish lifestyle is also one of the many things that attract people from around the globe to consider living in Spain.
A majority of the ex-pats that are living in Spain are usually retired, while many are remote workers, working full time at a company in their home country.
So, Spain is a perfect destination for retired ex-pats and digital nomads. Expats can enjoy the weather and immerse themselves in the wonderful culture of the country and the city they live in.
On average, an expatriate chooses to live in the country for at least five years, and many can extend their stay.
Most of the ex-pats in the nation are from the UK, but recently, the number has been growing from Germany, France, Italian, Dutch, and America.
Spain offers a non-lucrative visa for those who wish to reside here but do not want to work there. A non-lucrative visa is one of the most common choices to gain access to Spanish residence permits.
So, here is the best guide to the Spanish non-lucrative visa for people looking to reside in Spain or retire to Spain. Read on to know.
What is a Non-Lucrative Visa?
It is a type of visa that permits you and your family to live in the country but does not authorize you to work for any Spanish company. However, if you hail from any European country, you do not need to obtain a non-lucrative visa.
Expats who are living in the country can invest in property, trade shares, and conduct business. A non-lucrative visa also works as a travel visa that enables you to visit all over Europe.
Renew the visa after the first year, and it needs to be renewed every two years.
In addition, you can start working in the country if you have lived in Spain for more than five years then and will be eligible for a permanent residency permit.
For Whom is it Suitable?
The non-lucrative visa is best suited for people who wish to retire in Spain and enjoy a laid-back lifestyle.
Besides, if you are a business investor and wish to test the waters, a non-lucrative visa gives you a chance to get to know the country first.
Moreover, it is the best option if you want to spend your sabbatical in Spain or if you are a digital nomad who can work from anywhere in the world.
Main Requirements
The main requirement to get a non-lucrative residence permit is, having enough money in the bank.
Ideally, the higher the bank balance, the more are the chances of you getting a visa. Officially, the minimum financial requirements you need to prove that you have €27,115 to get this visa.
But, if you are moving with one dependent, you must consider having the minimum amount of €33,894.
Documents You Need to Submit
There are different types of documents that you need to submit to obtain a non-lucrative residence permit:
National Visa Form
Form EX-01
Private medical insurance but from a Spanish company only
A proper bank-issued certificate serves as proof that you fulfill the minimum requirements.
3*4 cm photos with white background
An original passport
A medical certificate declaring you are in perfect health.
A certificate that proves there are no previous criminal records.
This best guide to a Spanish non-lucrative visa covers the main requirements for the visa, the documents you need, and the suitability of the visa.