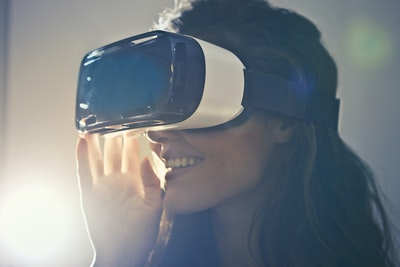 Virtual reality is an all-new technology that allows creative talents to challenge the way consumers experience the art industry.
It could be as simple as an IMAX themed experience or breaking free of the frame and becoming part of the movie itself all from the comfort of your home.
The Film Industry
Virtual reality has become important to major film festivals and Viveport has reportedly become the go-to for film festivals. They have already worked with Venice, BFI London Film Festival, Stereopsia, New Images, Raindance, IFDA, and so many more.
The Venice Film Festival last year had one of the most exciting lineups seen and the judging panel was made up of three incredible people: Celine Tricart, Asif Kapadia, and Hideo Kojima.
Celine Tricart led the Venice Film Festival panel. She is considered a pioneer in virtual reality and has managed to win awards at every major festival. Last year, she won the Venice Film Festival Grand Jury Prize for Best Immersive VR. Her work captivates and pushes boundaries.
Asif Kapadia is the director of several documentaries including Senna, Amy, and Diego Maradona. He is masterful when it comes to storytelling and has an incredible catalog of work.
Hideo Kojima is a legend who happened to change the way that video games are experienced and made and he helped make people recognize storytelling in video games. Kojima has made it known that he has hopes for virtual reality and how it brings the potential for creators to the table.
Attracting Talent
Virtual reality is attracting top talent from all over the world which shows promise for the future of this great new technology.
Content and hardware creation are getting more intuitive and easier every day that passes. Virtual reality was used to help create several major movies including John Wick and Ready Player One.
It was used in both production and direction. Things like physical trackers and face trackers are breaking barriers for things like motion capture. New technology keeps coming out and helping make high-end film making more accessible.
More and more people keep creating content for virtual reality, not just using virtual reality. Jon Favreau, the mind behind The Mandalorian, released a new way to enjoy storytelling in virtual reality, Gnomes, and Goblins.
The Tip of the Iceberg
The film industry is only the tip of the iceberg, last year the Victoria and Albert Museum in London launched a virtual reality experience called Alice: Curiouser and Curiouser which was supported by the company Vive.
It was the first time for the museum to play around with such technology.
Virtual reality is a great way to tell stories and experience them in a whole new way. We have very high hopes for this technology and cannot wait to see where virtual reality takes us all next.
This next year is going to be another fantastic year for content creators and virtual reality users alike.