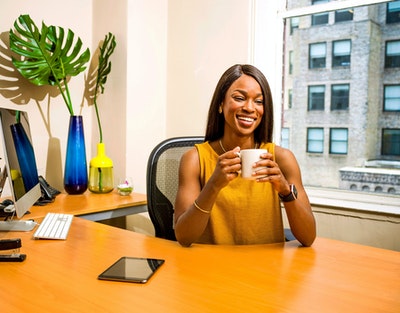 Your staff needs a healthy workplace, to thrive and produce their best work.
Perhaps you've never really considered how healthy your workplace is? The good news is, it doesn't have to be complicated.
There are plenty of simple changes you can make to provide a healthier environment, so let's consider a few ideas.
1 . Provide An Ergonomic Set Up
When you're designing your office, it's important to ensure that your workstations are set up ergonomically.
Whether it's an adjustable height desk, an ergonomic chair, or keyboard, there are many ways that you can create an ergonomic space.
To support your employees further, try using the Ergonomics app. The app offers advice on setting up your workstations correctly, plus guidance about stretching breaks and exercise during the day.
Offer Wellness Tools
Creating a healthier workplace isn't just about making physical changes, it's about supporting the mental health of your employees. There are several workplace wellness tools that you might like to try, including:
Wellspace: With the help of the wellspace app, you can provide your staff with wellness content. The app offers content about nutrition, mental health, sleep, financial health, and exercise. Employees can use this app to track their well-being and work towards health goals.
Vantage Fit: Using this corporate wellness program, employers can support their staff to make healthy changes. One of the best things about the app is the health competitions, encouraging staff to take part in wellness challenges.
Eco-Friendly Adjustments
To design a healthy workspace it's important to keep things as eco-friendly as possible.
When sourcing your office materials, prioritize eco-friendly items, from your furniture to your lighting and stationary. Improve your recycling policies, and consider using a green search engine, for example, Ecosia.
While you're at it, make a few healthy adjustments such as adding air purifiers, or plants, to improve the air quality.
Regular Health And Safety Training
To keep your staff safe and healthy at work, it's important to offer regular health and safety training. Staff should understand how to stay safe and healthy in the workplace, and be encouraged to report any issues immediately.
Without the correct health and safety practices, you could be putting your staff and your reputation at risk.
Improve Your Decor
To ensure that your employees feel happy and productive at work, it's important to provide an attractive workplace.
Employees are more productive and creative when they feel comfortable, a drab office will only bring down productivity levels! Give your office a revamp, focusing on bright colors, inspirational artwork, a few plants, and comfortable workspaces.
Lots Of Natural Light
Natural light boosts endorphin levels and productivity, so ensure that you make the most of it in your office.
If your office isn't so bright, try buying a few lamps that mimic sunlight. These can be useful to brighten up a dull office environment.
When you improve your office space you'll improve efficiency in the workplace at the same time.