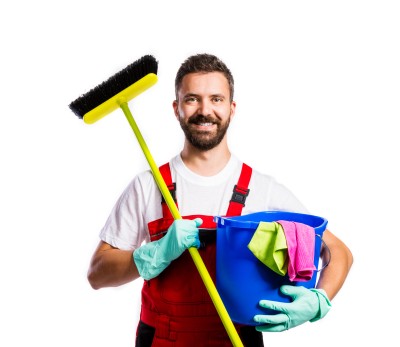 Starting a business is daunting – not least the financial and legal implications – but starting a cleaning company can be one of the least expensive ways to establish yourself in business.
Almost every business started on a shoestring will have been dependent on the hard work of its owner, so that's where we'll start…
Do the work yourself
If you're short of money to launch your business then it goes without saying that you'll be doing the cleaning yourself. This approach means you can avoid the significant costs associated with employing someone and all the hassle that goes along with it.
It also means that your cleaning business won't get far unless you're a competent cleaner. If you actually enjoy cleaning – and apparently some people do – then you've got a headstart on all the reluctant cleaners out there!
You may be working another job while you set on your journey as a self-employed cleaner, but don't work yourself to the bone by taking on low paying jobs.
Focus on providing the highest quality service you can rather than spreading yourself too thin and make sure you really listen to your customers.
People often have strong feelings about how their homes are cleaned and it's important that you keep them happy.
Domestic or commercial?
Domestic seems like a no-brainer. You shouldn't need specialized equipment to clean residential homes and more often than not your clients will expect you to use their equipment.
But it's important that you do your market research. Are there enough residential properties in your neighborhood? Can these households afford to pay you to do their cleaning?
If not you may need to consider whether it would make more sense to try to win commercial contracts, but bear in mind that this could increase costs significantly.
Commercial cleaners require the use of professional vacuum cleaners, equipment trolleys and perhaps even walk-behind floor scrubber dryers, which can run into the thousands.
You'll need a higher level of indemnity insurance and if you take on contracts to clean larger buildings, you'll almost certainly need to have others working with you.
You'll find starting a commercial or specialized cleaning company on a limited budget much more challenging than if you were to go the domestic route.
Marketing for cash-strapped businesses
Your first customers will likely be people in your extended network, so it stands to reason that the first step you should take to market your business is to tell everyone you know that you've started providing a cleaning service.
It also pays to be active on social media platforms where you can reach people within the geographical radius that your company operates in. For example, Facebook Groups are home to local communities where people often ask for and share recommendations.
Now that you have a customer or two, the most effective marketing you can do is to turn your customers into advocates for your business. The easiest way to achieve that is to look after them well: maintain a consistently high standard of work and they'll recommend you to their family, friends, and acquaintances.
Once the momentum starts to build you could look to adopt a marketing strategy that includes classifieds, leafleting or pay-per-click internet advertising targeting your local area.
Develop your brand
You can take some simple steps to begin developing your brand even on a reduced budget.
Branding isn't just about a logo, it's also about your values, the ethos of your business and how you communicate with your customers.
For example, if you care about the environment and your customers' pets, you may wish to use all-natural products. That may then give you some ideas for a business name that encompasses your values, helping prospective customers understand what you're all about.
If you can't afford to have a logo designed and printed on your vehicle or work clothes, you could instead arrive at your customers' properties in dark trousers and a plain t-shirt each week. This reflects your professionalism – and you're half-way to having a uniform.
Choose your cleaning products wisely
Some domestic customers will prefer you use the products that they supply, with others expecting you to bring your own.
You'll find that trade cleaning supplies can be variable in terms of their effectiveness and cost.
Although we're operating on a tight budget here, it might not be the best idea to pick the cheapest cleaning products – many domestic customers, in particular, may expect you to use all-natural products. Some of the cheaper chemicals can also have strong odors that may not be appropriate in a domestic context.
Most importantly, whichever product you choose must work effectively. It's critical to the reputation of your fledgling company that your cleaning is of the highest standard, and poor quality cleaning products is only going to make it more difficult to achieve that.
Buying trade cleaning supplies in bulk tends to be much cheaper than buying household brands in small quantities, so find an online or local supplier who offers the products you need at competitive prices.
Don't be tempted to stock up with cleaning products while you do your weekly shop – it will undoubtedly cost more in the long-run.
Don't forget about the legal stuff
It's easy to forget that there are legal implications to starting a business, or if you haven't forgotten it may be that you just don't know where to begin.
As you'll be working at somebody else's property, it's important that you have the appropriate level of indemnity insurance. This will protect your customer, their property and your business.
You'll need to make the tax authorities aware that you have a self-employed gig. To offset business expenses against your tax, and be able to easily report your income, you'll also need to do some basic accountancy.
At first this means keeping all of your receipts and recording them in a simple spreadsheet, but as your business grows you may wish to invest in accounting software. It will probably be some time before you need the help of a bookkeeper or accountant.
If you intend to win commercial contracts things get more complicated. You'll need to think about the benefits of incorporating your business and if you're taking on staff, you should consider the potential risks to their health.
Get cleaning!
Of course there will be other challenges you'll face as you begin your journey as a business owner, but these points should set you in the right direction.
A cleaning company should be an uncomplicated business and a relatively cheap one to set up, giving you the best possible chance of success.
The key point is to focus on quality and customer satisfaction – a high quality product can sell itself and business ownership is that much easier when you have confidence in the service you're offering.
Are you thinking about starting a cleaning business?