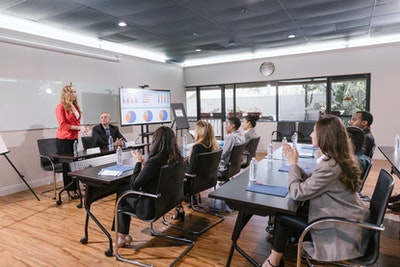 A corporate event comes with a lot of excitement, growth opportunities, and fun factors to explore a different side of an organization.
Every business wishes to build lasting relationships with its customers and clients who have been a source of constant business growth. As a result, ventures often go for corporate events and use such opportunities to announce something more significant than life.
Whether you are planning to launch a new product or service in the market via the event or thank you, clients, for their long association with you, a corporate event looks more manageable when broken down into different stages.
Then it gets much easier to conceptualize everything and plan for a successful event ahead.
What is the biggest perk in the current times?
Its digitization has introduced us to multiple platforms and software, giving easy access to smart planning. Plus, the corporate events permit you to relate personally to nurture relationships with your esteemed clients.
Digitalization in the corporate world has made it much easier to organize events and make them a great success. One of the most significant illustrations was the COVID-19 pandemic when the world was trapped inside the four walls, and many MNCs ran their corporate events and meetings successfully. It all happened with the magic of online platforms allowing professionals to connect virtually.
All such factors make corporate event planning an easy and exciting task to take and conquer. So, if you have been given the responsibility to impress your business's clients with the perfect kind of arrangements, then here is something for you.
Know the purpose of your event – Begin with the basics to ensure the best success for your corporate event. Understand the goals and objectives of corporate events organized. Ensure to jot down what results are expected out of your event.
Having answers to all these questions will help you plan things accordingly.
What's your budget?
Every company has a set budget to organize the event and other activities taking place within the organization.
The amount of money you have access to will decide the kind of arrangement you make. From the venue to the infrastructure, the budget chooses everything.
A corporate event encompasses many elements demanding a handsome amount of money, including – making accommodations arrangements for the clients, culinary expenses, venue, and much more. Therefore, have a word with the management and know what budget to proceed with.
Know your audience and clients
Every business type has a different clientele based on the services and products they offer. Now when organizing a grand corporate event, it's essential to understand the nature and overall perspective of people you are going to entertain.
For instance, make up your mind if the event is for clients, company executives, managers, employees, business partners, or anyone else. Deciding the ideal audience type will help you understand their needs and interests. This is a preferred way to save your time rather than pondering over who will be attending the event or how to impress them.
How big is the event?
Don't forget to know how many people are you inviting to the corporate event. This decides the arrangements types and sometimes the venue too.
Moreover, uneaten snacks, empty seats, and a hall is never a good idea for a small-scale business. This will only add to the overall expenses of the venture. Therefore, know the ideal number of people to be invited and make arrangements accordingly.
What about the security?
The security of your clients and staff members present at the event is of utmost importance. Therefore, ensure that you work on all factors associated with safety and security.
Although the venue may have its own security arrangements, it's always a good idea to hire professionals for the same. You can hire a private security company providing security services at its best. Such companies have licensed and reliable security guards equipped with ample security equipment to safeguard your clientele and staff members.
And what's the harm in going for such services when you get them at an affordable price?
Select a theme
Corporate events are all about subtly marketing your venture. Therefore, it's always a good idea to woo your clients and potential clients with a kick-ass theme and format for the event.
You can give try a theme that represents your brand while providing a hint of your new range of services or products that you are planning to launch at the event. For instance – you can use your brand colors for decoration purposes while keeping large billboards shouting about your new launch.
This can be a successive way to seek the attention of everyone present there while marketing your brand without shouting about it. Another trick to get the ball in your court is to make it an informative event spreading information about your product and services.
Talk about the event
Once you are done with all the marketing activities and stuff, then publicize your upcoming event on each platform possible. There are plenty of options to exhibit your event on. It includes – social media channels, your website, or paid-third party websites.
You can make the marketing campaigns more meaningful for the target audience by connecting them with their requirements or demands. This is the best way to hit the audience's emotions and engage their interest to the best.
Plan the logistics early
Your event day should not be a big mess to deal with. Therefore, ensure you make all the necessary arrangements on a prior basis.
Plan and send the logistics earlier. Ensure that you ask technicians, decorators, caterers, photographers, and security guards to reach the premises early. If possible, appoint a manager to fasten up the process.
The final line
Planning for a corporate event may sound like a significant challenge for once, but you witness the amount of fun it contains once you get into it. Here, all you need is to be familiar with the trends of the corporate world and how you can utilize them to make a difference.
For the best success, ensure to co-relate the latest trends and your business market in common.