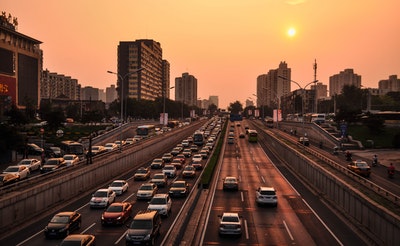 If you're like most people, the first time driving in a new city can be fairly intimidating. To start, you're probably unfamiliar with the streets and how to get from one point to the next. Then there's the sheer amount of traffic that is typical of a large city.
In order to avoid receiving a ticket, getting in an accident, or having a potential car accident settlement on your hands, it's wise to read up on the driving laws in the specific state you'll be visiting and learn a little bit about the city before you arrive.
Here are some important driving tips to keep in mind when traveling to or through one of the United States' biggest cities.
1. New York City, NY
For some, just visiting "The Big Apple" can be an overwhelming experience in and of itself—let alone the nerve-wracking challenge of driving through its busy streets.
Because NYC is regarded as the most "walkable" city in the U.S., you'll need to keep a keen eye out for pedestrians at all times.
In that same vein, so many residents who don't walk choose to take taxis and public transportation to get from one location to the next—meaning you'll need to be constantly mindful of yellow taxis that tend to weave in and out of tight spaces.
While you're at it, get used to tight following distances. For the city's natives, bumper-to-bumper driving is the norm.
2. Los Angeles, CA
Although New York City edges out Los Angeles in terms of population, LA might just have the worst traffic of any U.S. city.
Of course, LA locals are accustomed to logjams and are able to circumnavigate highly congested areas. Newcomers, however, may find themselves incredibly frustrated by the sheer amount of time that is spent sitting in traffic. For this reason, avoid driving through LA during rush hour if at all possible.
If you're currently staying in Los Angeles, find something other than getting behind the wheel to occupy your time from roughly 4 to 7 PM. If you're leaving or arriving in LA, plan your trip accordingly so that you avoid getting stuck in the city's gridlock in the late afternoon.
3. Chicago, IL
Like most cities, Chicago's streets are set up in a grid. This means that most roads are fairly linear and you'll need to navigate tight turns at intersections.
Be sure to pay attention to street signs in the "Windy City", particularly as you approach the city's business district. This area is home to multiple one-way streets, and even a short lapse in concentration can become the cause for an unfortunate accident.
Finally, Chicago is known for its large sports fanbases. With franchises in all five major sports—including two teams in Major League Baseball (MLB)—the city hosts live sports events year-round. By keeping an eye on Chicago's sports schedule, you may be able to avoid an influx of traffic near stadiums where events are being held.
4. Houston, TX
As Houston not only ranks fourth in terms of population but also ninth in terms of square mileage, you might find that it's not as densely populated as the other major cities within the top five.
Given its sheer size, more highways run through Houston than the average metropolitan area. You're likely to encounter tolls—in which case, consider picking up an EZ-tag if you plan to stay for a while.
Houston's public transportation is also more limited than that of New York, Los Angeles, and many other major cities, so there's likely to be no shortage of vehicles on the road at any given time. Look out for aggressive drivers, employ defensive driving habits, and be safe!
5. Phoenix, AZ
Arizona is known for its particularly dry climate. In total, the state might only see a few dozen rainy days each year on average. Like southern states whose drivers aren't accustomed to driving in the snow, Phoenix drivers aren't accustomed to driving in wet conditions.
While the city doesn't experience many hurricanes, its monsoon season runs from July to September—causing trouble for Phoenix locals who are forced to navigate inclement weather. If you find yourself driving through Phoenix on a rainy day, keep an eye out for drivers who drive recklessly in the wet weather.
Beyond weather, the city of Phoenix—and Arizona as a whole—has implemented the use of roundabouts where traffic lights would typically be used. Make sure you adhere to the yield signs and stop signs at these intersections.