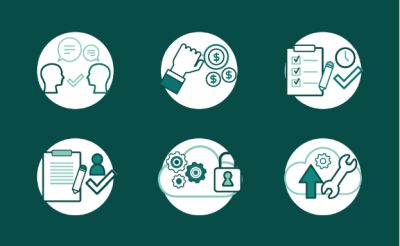 Are you looking for help with using PLM software for your small business? Running a business is no easy task, especially when there are a plethora of decisions and actions that determine your success.
According to the Bureau of Labor Statistics (BLS), 65 percent of new businesses fail in the first ten years of operation.
One of the main reasons businesses fail is inefficient management, which with the proper tools and planning, you can prevent. For example, PLM software, which helps manage the entire product lifecycle,  is an essential tool for successful small business management.
What Is PLM Software?
PLM, or product life cycle management software, makes collaboration between departments much easier since it can regularly update each team's progress, ideas, and plans.
It starts with the planning, designing, creating, and distribution of a product and ends with creating suitable strategies for discontinued products. PLM software from the best providers can help you manage and track all information updated to the software.
Why Does Your Business Need PLM Software?
PLM software doesn't just increase the efficiency of your business, but it also helps to reduce waste and losses.
Your business can thrive with the help of PLM tools by improving communication among members and departments of your business.
What are the Essential Features of PLM Software?
Here are some of the essential features of PLM software  that can benefit you and your small business:
1. Merchandise Planning– This feature smartly selects, buys, creates, and sells products or merchandise in a way that maximizes your ROI (Return on Investment) and meets the consumer demand. If you develop products that aren't needed, it will cost you tenfold in the long run when you aren't making any profits. The merchandise planning feature can be a big help to create a good product at the right time, sold at the right place, and at the right price. By adding information on recent trends and store locations, the software can suggest adjusting pricing or making changes to the product accordingly.
2. Manage Materials– BOM, or bill of materials, is a feature that handles all the raw materials, components, and other parts in quantities that are required to build a product. The BOM structure is in the form of a hierarchy, which includes the product codes, part specifications, cost, and quantity of the parts, with the finished product at the top of the list. Good PLM software provides a BOM that can help you plan what raw materials you need, find out the cost estimates, track inventory updates, project requirements, and reduce wastage.
3. Central Data Collection– Central data collection is a feature similar to a vault where all data and processes are stored and uploaded to the software. Everyone within the organization can access all information, data, and previous projects to look back on. Every member can access it right from the designers to the manufacturers and partners of distribution. It is because of this that the entire organization can collaborate and stay up-to-date, and end-consumers can track quality information and find product codes.
4. Collaboration– Teamwork and communication are core components of product creation and management. By reducing personal meetings, it saves time and provides a social environment within a functional space to boost time to market. Rather than waiting for people to find the time to appear for in-office meetings, they can continue to update information directly on the software no matter where they are in the world.
5. Product Lifestyle Automation– Since many projects have similar design features, there's no need for you to work on it from scratch. Instead, the software creates a backlog of previous work that you can use as a template to save time and resources. Apart from this, automation also reduces human error that can be caused by employees. Any mistakes or typos are automatically corrected so that they don't cause severe issues in the long run.
How Can PLM Software Help Your Business Succeed?
PLM Software consists of efficient teamwork throughout the entire lifecycle of a product. Through successful communication, products are created quicker and have a faster time to market.
No doubt, there are many benefits of using PLM Software such as improved product quality, decreased time to market, lower costs, enhanced communication with partners, and better customer satisfaction. Business management runs much smoother when a single software tool manages the entire product lifecycle.
Making the Decision to Ensure Success
While PLM software can get pricey, the efficiency that the software enables makes the investment worth it for many small businesses.
While you may have to make some financial sacrifice upfront, ultimately, using PLM software will cut down expenses at every step of the product lifecycle.
Before choosing a specific software product for your business, be sure to research all of its features and how they align with your business goals.