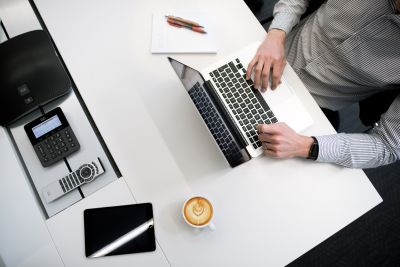 So, it's something we've touched on in the past – how you can effectively cut down on the costs of running a business via the internet, but let's get a little deeper with the details with this post.
After all, you're going to need the right resources in place to get started and to get a foothold on the e-commerce web, so here are just a few questions to ask yourself before you begin.
Even though your business is online, you're still going to have considerable equipment costs to fork out for. (Image)
Have You Got the Market?
If you're going to be running an online business for the foreseeable future at least, then you need to be sure there's a gap in the market for the idea you want to push.
After all, if the sector you're thinking of moving into already has one or two businesses just like yours, there are good chance profits will be slow to accumulate. And that doesn't make for a good startup model.
So either you need to bridge a gap, or you need to be different to the competitors we mentioned above. And when you can prove that you are, once again, you're filling in a gap in the market! Lower prices, better shipping costs, etc. If a customer doesn't find these anywhere else, you're the business they've been looking for.
Have You Got the Admin Skills?
Admin is a big deal in business, and as the boss, you're going to be the one who takes on the bulk of filling out forms and filing them away day after day. And you're especially going to need to learn about the taxes associated with Online Business – they can be very different in the virtual world when compared to a brick and mortar business and its tax brackets.
You're going to need the cloud storage to keep all of your files safe, and you're going to need the right security on top of that.
You're going to need the time in the day to keep your supplies stocked up, and to write out regular reports on the customer flow in and out of your website. It's not something people aim to do on their own, so you're probably going to have to accommodate payroll for junior employees or an accountant here too.
Have You Got the Right Copy?
Copy is key. Your website needs to have the right words to it, to make sure your products and services come off as something the customer needs as soon as they log on. You need to have good copy To your name, and you need to be known for your creative and informative, and clear and concise, use of it. It's a skill not many businesses actually possess, so you'd definitely stand out from the crowd.
Accumulating the right resources in your bank to run an online business might be harder than you think, but when you remember ideas like these, it won't be impossible to get on with.
Have you got the right resources for your online business?