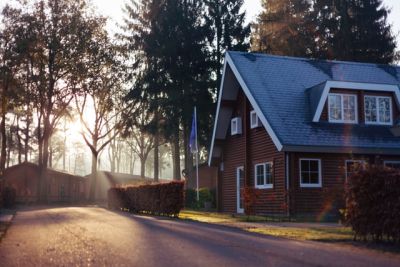 Is your home feeling a little small? Perhaps it needs a little work? Then you're probably already considering your options! Ultimately it will boil down to: should you stay or should you go?
There are pros and cons to both options. While a move can seem like an easy option, it can actually be expensive, and a lot of hassle to find the right home. Meanwhile, staying put and doing up your home can mean that you don't have to move, but with the obvious cost involved in building an addition or remodeling your home.
So which should you choose? Here's some advice to help you decide whether it's time to move on or move on up?
The benefits of moving house
There are several benefits involved in moving house. You can benefit from having more space, living in a nicer area and getting the chance to enjoy a fresh start. If your family has grown or you're in a better financial position, then having a bigger home can be a big benefit to you and your family.
House hunting can be exciting, and there are some useful tips on home buying techniques to get you started.
The downsides of moving house
While moving house can be great, there's no denying that there's a lot of stress and hassle involved. Finding a house is one thing, but selling a house is a whole other ball game.
You can make selling your property easier by 'staging' your home, but this can end up costing you more money, and can take up a lot of time.
If you love your current home, moving can also be difficult emotionally, so sometimes staying where you are can be the best option.
The benefits of remodelling
Remodelling your home has several benefits. You can take the hassle out of moving, as well as add value to your existing home. Working with a custom home builder, you can choose to extend, remodel, add another floor and more – giving you plenty of options to modify your existing home.
Staying where you are allows you to keep enjoying the things you love about your home, and could work out as a more cost-effective option.
The downsides of remodelling
While remodelling can open up a load of possibilities for your home, it can be very expensive. Remodelling will involve bringing in architects, builders and other trades to carry out the work. It will also take some time, which can be difficult to bear when you have a family and normal life to get on with.
Remodelling needs to be planned carefully to help you save your sanity, and you need to make sure the money that you're spending will increase your home's value, instead of leaving you out of pocket in the future.
The decision over whether or not to buy a new home or stay where you are is a difficult one, and will depend on your individual circumstances. Weigh up both options, consider the pros and cons as well as the costs of both. Both options are exciting and can lead to some great new things for you and your family's future.