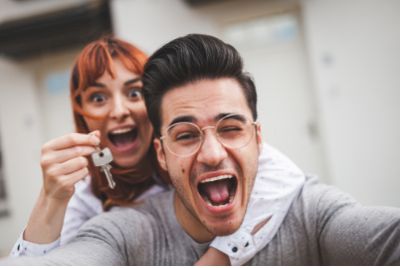 There is a process you have to follow when buying your first home.
When you finally decide to stop paying rent and become a homeowner, you need to prepare yourself since you are about to make your single most and biggest purchase.
But first, are you ready to own a building?
It is quite different from renting and more expensive. It may not be a good idea to purchase a house when you are under pressure from your family or friends. Even if they have your back, you need to be financially ready for the outcomes.
When you have everything set and ready, you can follow these tips to guide you when making your first home purchase.
#1 Hiring an Agent
Instead of having to visit hundreds of houses before you can find one that suits your taste, it is a good idea to hire a buyer's agent. They will follow your parameters to create a listing straight from the Multiple Listing Services (MLS) database. On top of that, they have access to new listings before anyone else.
You will, therefore, avoid wasting your time going through properties that already have a short sale offer.  Additionally, the agent may use their own time to go through the houses on your behalf.
#2 Choose a home to buy
Research is a crucial step to finding your best home. The more houses you view, the difficult it can be to make a decision. Therefore, choose to see not more than seven houses, and from them select one that meets your criteria.
#3 Acquire a loan
It is a smart idea to prepare for a loan pre-approval early in advance. However, for that to happen, you need to know the amount you are likely to spend. It can become easier to convince a seller that your offer makes sense since you have the confidence of a financier.
Since it is your first home buying experience, you may ask the realtor to recommend a mortgage broker, or you may visit your bank for financial aid. Still, you need to compare the various mortgage offers you receive and make the best decision.
#4 Lead the Negotiation
A seller can choose to price a house to any amount they want. The home does not necessarily have to match the prices of others that are similar. Your agent may choose to, however, present you with the selling prices of homes in the neighborhood that are similar.
Even though the seller may use comparable sales to justify the price they ask for the property, you should only pay an amount you believe to be fair.
#5 Perform a home inspection
A home inspection will uncover any underlying problems the house may have, such as plumbing and electrical issues. You have to complete the check before you can sign the contract with the seller. If you are searching for a property from https://lincolntowersnewyork.com, it is best to choose a licensed home inspector near the area.
Most sellers may not accept your offer to purchase their property if you make a verbal offer. Everything needs to be in writing. It is, therefore, essential to get a lawyer when buying your first home. They will help review your contract and ensure that it is safe for you to sign.