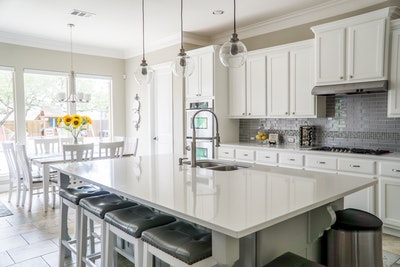 When you're spending money on upgrading your home, not only do you want the renovation to improve life in the here and now, but you also want it to add value too.
That way if you choose to sell later down the line, you recoup all of your costs back- plus more.
If you're considering making an investment into your home, here are some fantastic renovations well worth making as they also add significant value.
#1 A conservatory
Conservatories are a great way to add space to the home without the cost or hassle of a full brick-built extension.
They tend to be cheaper and don't require planning permission, and you get an extra space that you can use as an additional living area, a home office, a kid's playroom, or whatever you need.
Older conservatories get a bad name since they're cold in winter and hot in summer, but modern models use high-quality glass and along with blinds the temperature can be well maintained.
If you are looking to do this then take a look at the website for a team of roofing experts like Projects 4 roofing as they can help you to get your conservatory project underway.
#2 A mudroom
A mudroom or entryway is a necessity for some homes, if you live in the country and need a place to take off your wellies or have kids and pets then this can prevent mud from being traipsed through the house.
It also gives you a practical place to hang coats, bags, and umbrellas when you first come in. Check out mudroom ideas for a lake house if you live in the kind of property that would benefit from this upgrade, it should be bright, airy, and easy to clean.
This means wipeable paint and tiled flooring are usually good options.
#3 A downstairs bathroom
If your home only has one bathroom, adding another is the perfect way to improve your home's practicality while adding value. You could add a cloakroom under the stairs, or perhaps an ensuite to the master bedroom.
There will be less fighting over the bathroom in the morning which can make life easier, and if you choose to sell later down the line you'll find most buyers tend to want at least two bathrooms anyway.
By having them, your home won't be overlooked as a possible contender. Depending on where the plumbing is situated in your property, adding a second bathroom can be easier than you think.
#4 New kitchen/ bathroom
The kitchen and bathroom are some of the most important areas of the home. If you come to sell and yours are lacking or old fashioned, it can put potential buyers off the entire property as they'll be all too aware that it's an expensive upgrade.
In some cases, you might be able to get away with repainting kitchen cupboard doors, adding new hardware, new tiles, and repainting.
In other cases, you'll need to rip everything out and start again, work with a kitchen designer who can help you to make the most of the space you have and create a kitchen that will look beautiful for a long time to come.
#5 Attic or basement room
Do you have the option to extend up or down in your home? If so, why not turn the attic or basement into usable rooms rather than being wasted space? These can often be cheaper than extending outwards and are a good choice if you don't have the outdoor room or ability to extend to the back or side of the house.
Adding an extra room will almost always improve the value of a property, and it's good for you in the here and now as you can use it as an office, guest room, hobby room, or whatever you currently need.
Basements are particularly good for media rooms, man caves, and teenage hangouts if you want to give the people in your life some extra space (and free up other areas in the home for yourself!)
Have you made any of these upgrades to your home recently? Which would you most like to add to your home?