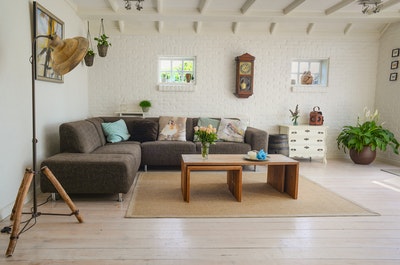 Houses, especially in developed countries like the US, are often preferred to be large. After all, they're designed to shelter and grow your family. America has by far the biggest median size for a single-family home at
about 1,600 square feet to about2,200 square feet. The average size of houses in other countries like Australia and New Zealand is about 1,900 square feet.
Despite the literally growing trend in home sizes, some homeowners are going against the grain by living in tiny houses.
Going Tiny
OnHGTV and FYI, you've probably seen evidence of this trend in shows like "Tiny House Hunters" and "Tiny House Nation." They feature designers, builders, and residents collaborating to create homes that are under 500 square feet.
Online video streaming channels like "Living Big in a Tiny House" also demonstrate how people live in tiny houses. These channels also feature how apartment and condominium dwellers make the most out of their small units.
They show that it's definitely impossible to live comfortably in a small home, you just need to think out of the box and be resourceful.
An economical house and lot can still provide spaces that are roomy. It may not be as large as mansions across America, but it will still allow you to live a comfortable life.
If you're living in a tiny home or apartment, here are ways you can maximize your limited space.
Find Opportunities for Storage
Bulky closets and drawers make every room in your home feel much more cramped than it already is. There are a variety of open spaces in your home that can be converted for storage.
If you have a two-story house, you could remodel the space under your stairs into multiple drawers and closets. Use bins to store shoes and other stuff under your bed. Just make sure these blend into the room's current design, so they look seamless.
Another way to store your stuff is by looking up. There are many vertical storage opportunities throughout your home. Find an empty wall in your kitchen. Install racks on it to hang your pots, pans, and spatulas on.
You could also create vertical shelves made of galvanized metal sheets to store your spices and other ingredients on. You could also use the back of your door. Place a few nails at the top and use them as supports for a hanging dresser or hanging shoe rack. The possibilities when it comes to vertical storage are nearly endless.
Storage opportunities can also be had in multi-purpose furniture, like an ottoman that doubles as storage for your spare pillows or board games.
Come Into the Fold – and the Slide
Other items that take up horizontal space in your home are your tables, chairs, and bed. You can also use vertical space to store them.
Ask your local designers and builders if they can install a folding bed integrated into your home's wall. When you have guests over to your studio apartment, you can just fold the bed away to free up some space.
You could also install foldable tables so you don't bump into them when they're not in use. Clear even more space with sturdy folding chairs that you can stack or hang up on the wall when you don't need them.
Another mechanism you can take advantage of is sliding furniture. Instead of having a traditional door that takes a lot of space when you open it up, try getting a sliding door installed. This only moves parallel to your wall, so you don't have to worry about them taking up any horizontal space when you open it.
You could also buy or build a pull-out pantry with a sliding door. This way, you don't have to dedicate a room or a bulky closet for your all-important ingredients and miscellaneous kitchen equipment.
Loft it Up
If you don't want a folding bed, another way you can use vertical space is to create a loft. You can easily turn the space under it as a base for your entertainment system or your very own office. There are a variety of loft bed frames in appliance stores, like Ikea and Home Depot.
If you want something roomier and sturdier, you can have a larger loft installed, with sturdy flooring you can settle your bed frame and bedside table on.
Living in a tiny home doesn't mean that you have to get used to a cramped space. You just need to be creative about your furniture and storage. These suggestions help you make use of vertical space to make your house roomier and ultimately more comfortable.