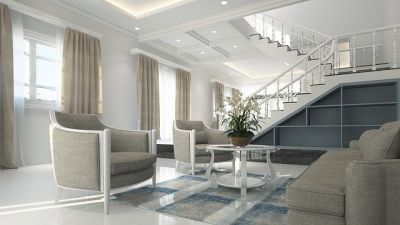 Working towards your dream family home is something that we all do throughout our early twenties and thirties.
Being able to find that perfect forever home where we want to have pets and raise the kids is a challenge, and it is something that can take a bit of time to achieve.
If you are finally at the stage in your life where you are looking for the ideal family home; here are just a few of the important features you should like the time to look for.
#1 A safe neighbourhood
Before you look at the interior of your dream home it is important for you to consider the neighbourhood and how safe it is for you and your family.
You don't want to end up somewhere that has a high rate of burglary or violent crime because this isn't a good environment for you or your children.
#2 Good schools and amenities
It is also important to study the local area to see what kind of amenities such as shops, schools, and transport links the town or city has.
If you have a lovely house but you are stuck in the middle of nowhere it won't be good for anyone!
#3 A large garden
One of the best features you can enjoy in a family home is a large outdoor space.
We all know how great it is to be able to play outside with the kids and have a good space for the pets to go. During the spring and summer, a garden will be a huge asset to you and you'll be able to have parties, barbecues, and family fun in the garden.
#4 A spacious kitchen
One of the most important rooms of the house is the kitchen, and a spacious kitchen with plenty of storage space and countertop space is absolutely essential for a family home.
When cooking for a family you'll have to line up more plates and dishes, and you'll cook a larger proportion of food. Having more space to cook on will make a massive difference to you and will make life much easier!
#5 Bright open rooms
There is nothing worse than a dark and dingy house. As a homeowner, you want to bring as much natural light into your living space as you can, so choosing a house or using house and land packages to build a house with lots of windows is a great idea.
Natural light not only will make your house feel happier and cleaner, but it will also make the whole house feel more spacious.
#6 A cosy lounge space
One of the best parts of the day is when you can all sit down in the lounge and watch a movie as a family.
Creating a cosy and warm lounge space can be a great idea and it will help everyone in the house relax for the night after a stressful day.
Features to look out for in your lounge is plenty of plug sockets for electronics, spaces for sofas, and a fireplace for those cold winter nights.
#7 An inviting dining room
The dining room is a great part of the house not only for hosting guests but also for family mealtime.
It is too common these days for families to sit in front of the TV to eat dinner, but sitting at the dining table is a better experience.
It is important to stay in the loop with your other family members, and by having an inviting dining room to eat dinner at, you'll be able to catch up with each other's days and make each other feel happier.
#8 A sanctuary bathroom
After a long stressful day, one of the best things you can do is enjoy a long hot shower or a relaxing bath.
When finding your perfect family home it is important to consider the bathroom and the features it had within. Smaller houses often have a stand-in shower bath or they might not have a bath at all.
But let's face it; there is nothing more relaxing in winter than putting on some candles, putting on your favourite show and sitting in a warm bath with a glass of wine. Not only is a big bathroom more relaxing but it is also more impressive.
#9 Plenty of storage space
If you have a big family it is important for you to have plenty of storage space handy! The more people that are in your house; the more items you'll have hanging around.
And when you have pets and children – you'll need even more storage space to tidy away all of the clutter. Be sure to utilise every part of your house in terms of storage, and look out for cupboards and attic space you'll be able to store your things in down the line.
#10 Lots of plug sockets
In this day and age, we all have multiple devices. From TVs to phones to laptops and tablets – everyone needs a charging port and everyone needs somewhere to plug in their gaming console!
When searching for a new house, be sure that there are plenty of plug sockets in the house to ensure that everyone stays connected.
#11 A home office
A home office is a great amenity to have in your house.
Whether you work from home yourself or you'd like a study space for your kids; a home office is a brilliant feature to look for and one which will promote productivity in the house all year long.
#12 Cosy bedrooms
For the ultimate family home, you'll want the ultimate cosy sleeping spaces. Make sure when checking for your family home that you have enough rooms for everyone in the house, plus a guest room so that family or friends can stay over now and again.
Having a guest room is a great thing and also having spacious bedrooms will help ensure everyone gets the best quality sleep each night.
Be on the lookout for these are other features this year for your dream family home!