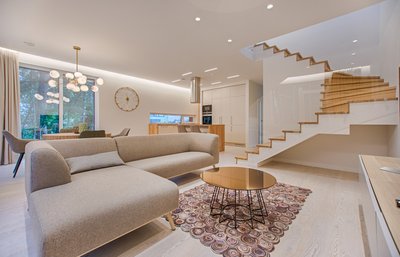 Buying a home is a mammoth process. You will have all sorts of considerations to make, especially if this is your first step onto the property ladder.
Even if you have bought before, it's easy to feel overwhelmed with options, caveats, pros, and cons, until you are paralyzed with indecision. It's hard to know what to believe, with estate agents doing their best to entice you through viewing after viewing.
When you get into the upper end of the market, this can become even more difficult to see through. After all, if you're lucky enough to be viewing luxury homes, it can be just as hard to choose between multiple options that all seem pretty special.
However, even with these properties, there are certain areas you can look out for to help you make a choice and land your dream home.
Location
It's no use having the perfect house if it's in the middle of nowhere, miles away from all the things you love doing. It's easy to be blown away by a gorgeous country home, but you should always take a second to consider exactly where you want to be living.
Believe it or not, this will be more important than the home itself – particularly if you're an outgoing person who tends to spend a lot of time out and about.
Location is about proximity to different services, entertainment venues, social activities, but it is also about the atmosphere and vibe of the neighborhood. Where do you want to live?
Are you ready for suburban, white-fenced life, do you crave country living, or do you want to be surrounded by the sights and sounds of the inner city?
Making a decision about this will be a crucial factor in buying your home, so it's important to feel what's right for you.
Functionality
When you're looking around luxury homes, it's easy to get carried away with the aesthetics of a space. After all, when something looks and feels gorgeous, it can be hard to make sure you're considering the practicalities of living in a home.
Functionality is even more important than beauty, so don't let yourself be fooled by appearances. You might assume that basic functions such as plumbing, electricity, and so on will be automatically fine in a luxury home, but this is not always the case, and it is worth investigating.
This is particularly true if you are considering an old property, which might have great antique value but limited modern infrastructure. Make a list of basic needs, even and especially if you think they are stating the obvious.
These could include plumbing, heating, opening windows, insulation, water pressure, to name a few. You can then ensure that your luxury property doesn't only look good, but also works just as well.
Liveability
We've all seen thousands of gorgeous homes on Instagram, right? You've looked at those celebrity pads and drooled, especially at the ones that promote a minimalist lifestyle of style and glamour.
You know the ones – everything is white marble and leather, perfectly positioned, not a hair out of place. Again, it's easy to be swept away by the desire for the mess-free, clean-living lifestyle these interiors have come to symbolize.
But when you are actually buying a house, it's important to ask yourself, would you actually want to live there? Remember, you are buying a home, not an Instagram background.
Most people are a bit messy, we like coziness, we like things to be a little bit asymmetrical. In your viewings, always ask yourself if you can picture yourself chilling out and watching Netflix there.
Longevity
If you're consistently hopping from home to home and from country to country, then this may not apply to you.
People will also need to discuss their stay at a home, though – longevity matters a lot to the majority. If you see yourself staying in a particular home for a long time, then it's worth considering heavily.
If it's something you see as something you'll potentially be bored of after six months, then it shouldn't be anywhere near the top of the pile.
Whether you're venturing into some Eleuthera Real Estate or looking to move into a smaller place a few miles away from your current home, you'll have to take the length of time into account if you're to be eventually satisfied with your decision.
Style
Along these same lines, it will help narrow down your search if you know what style of property you are looking for. Luxury homes come in all shapes and sizes, from listed mansions to ultra-modern apartments, and there is no one-size-fits-all.  I particularly pay attention to the kitchen, things like shaker white cabinets and quartz countertops are always a welcome feature.
The Lifestyle Collection website has plenty of properties to look at in a wide variety of styles, so you can judge for yourself what interests you and what you would rather avoid.
Knowing this from the start can save you lots of time and energy – although, of course, it's always worth keeping an open mind in case something falls into your lap that you never expected to fall in love with!
Ongoing Bills
When you are buying a property to live in, you're not just buying the property itself. You are also committing yourself to paying for the ongoing costs of living there.
These costs will be affected by a variety of factors, and you will need to bear all of them in mind. Location can have an effect on what taxes you will owe, and the age of the property could incur greater electricity and gas bills, alongside potential structural upkeep. Are you prepared for the responsibility of keeping an older building upright?
Or would you rather move into a luxury new-build with the latest technologies and amenities?
This may feel like a smaller consideration just now, something that you will 'deal with when you get to it', but you will regret this later if you end up somewhere with spiraling costs that you did not expect, so it's well worth putting to the forefront of your mind.
Special Amenities
Finally, one of the benefits of buying a luxury home can be the opportunity to snap up a special amenity that wouldn't ordinarily be available on the regular market.
These can come in many forms, so it's worth building a list of priorities so you can have deal-breakers that help you make a decision on a property.
Examples could include a swimming pool, a home cinema, a games room, a designed garden, or the real-estate available for you to install any of the above yourself.
Now, this is an added benefit, and it shouldn't take precedence over any of the factors mentioned above such as liveability or ongoing bills.
However, when you are looking to buy a luxury home, it's useful to have a variety of goals so that you can aim high, dream big, and secure a purchase that will keep you happy for years to come.