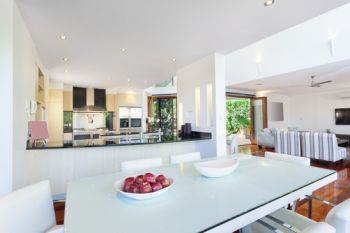 Most proud homeowners want their house to be welcoming, smart and stylish. However, very few people want to spend a fortune on cleaning and maintenance bills.
For this reason, it's important to set an affordable budget for exterior maintenance tasks, such as looking after your roof, gutters and those items that may need a regular paint job, including doors, window shutters and gates.
It's also sensible to consider the decisions you make when choosing furnishings and finishes for your home interiors.  I can personally attest to this with three young kids they like to do everything from mark up the walls to jump on the furniture and eventually this stuff will need to be fixed.
However if you want to save some money I've put together a few tips on keeping your interiors looking good, without constant repairs and maintenance.
Flooring
 There's absolutely no need to opt for wall-to-wall carpeting to create a chic effect – a highly polished floor in hardwood, laminate or vinyl tiles with a protective sealant is beautiful to look at and easy to keep clean, which is a real bonus if yours is a family home complete with pets.
However I'm not a pet person, at least not in the house, but if you do have a dog you can save big money by only restricting them to places with vinyl or laminate to make cleaning up mess and hair easier.
Carpets in the bedrooms can be fine and relatively easy to keep clean if family members are encouraged to wear slippers or go barefoot upstairs.  The one place you don't want to have carpet is the kitchen.
From my own personal experience with kids this can be the one place that will have the most messes to deal with.
Finishes
If you use excellent quality washable paint on high traffic areas, you will find it easy to keep the space looking smart and free from grubby fingerprints or the occasional splash of juice or coffee.
I actually do this every year touching up all the spots that tend to get scratched and messed up by just keeping an extra gallon of paint around.
Wall coverings can be attractive, but they can also be difficult to keep clean, so if you want a feature wall, choose some of the great range of vinyl ones that are now available – they can look smart and stylish and are very affordable, and most importantly washable.
Upholstery
One of the main expenses in your living area is likely to be the chairs and sofas, so this is where it really makes sense to invest in something that will look good, be easy to clean and withstand the often hectic nature of family life.
Leather sofa sets are just such an investment – they are stain resistant, and if you opt for colors such as black, charcoal or chocolate tones, you can dress them up with scatter cushions to match your interior design.
Leather is also a good choice in a dining area, although you may prefer to try out good quality vinyl or washable slipcovers as a change.
Lighting
If you install recessed lighting instead of buying lamps, you will save time when cleaning. Another option is to choose lamps that can be easily wiped clean, as fabric shades really do attract a lot of dust.
I actually have a few floor lamps and I can tell you from my own first hand experience they do get dirty very easy and in most cases I need to clean every few months.  On the other hand I have some recessed lights in my kitchen and they never get dirty, plus I think they look much better.
The same is true of ornaments and similar decorative objects – if you declutter your home and retain only what you really must, you will be amazed at the difference.
Storage
One of the benefits of well-planned storage is that it can help you to clean up quickly and efficiently.
For example, if you have a family room where children often play with toys and games, or you like to enjoy your favorite magazines, then make sure you have low-level storage available in something such as a window seat or ottoman so that it won't take long to put things away prior to cleaning.
When I built my house I also added more convenient storage areas throughout the house as well such as big closets and even a walk-in closet in the bedroom to keep all the clutter out of the bedroom.
 Final Thoughts…
Smart planning and choosing easy-to-clean materials for furniture, floors and other surfaces will help keep home maintenance costs down, as well as reduce much of the headache!  Over the years I've managed to save several thousands of dollars and avoiding home renovations because of this and I willing to bet you can too.
So what are you doing to keep your house interior looking good without getting all the cost involved?