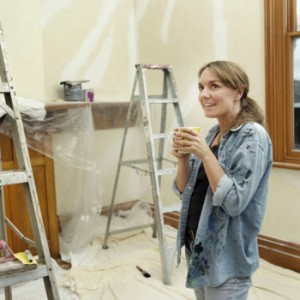 While accountants and financial spreadsheets make me fall asleep with boredom, I cannot deny that they occasionally come in useful.
This is especially true when planning a house renovation, as a budget plan can help you to achieve the kind of property you have always wanted without costing you money you can not afford.
I've done home renovations in the past and learned and saved a lot.  So I thought I would share 3 big tips that I learned that really helped me out.
Ignore The TV Shows
We have all watched those television programs that claim to have made over whole houses on a shoestring budget, but do not be deceived into thinking that you can do the same.
It is conceivable that the program makers have been able to get great rates on materials in return for advertising certain brands or companies, and they may have not factored in the labor costs of renovation either.
A renovation may cost considerably more than you or I could imagine.  I learned this first hand when I was renovating my house and found out that I two uneven floors that came together.
As a result I had to pay more for this little hiccup to have them cut out this section of the floor and repair it.
Set Extra Money Aside For Contingencies
This is why I cannot recommend strongly enough that you draw up a budget plan. Money, especially the lack of it, can cause immense strain, so keep stress to a minimum by working out how much money you have to play with, and then start working out what you need to buy to complete the renovation.
This will include such items as timber, metal, tools, paint, wallpaper and fittings, as well as the labor required to carry out the work.
It is almost guaranteed that no matter how carefully you plan and try to stick to your budget, you will also have some unexpected costs.
For example, floorboards might be lifted up to discover that there is dry rot underneath, or you may accidentally bang a nail through a water pipe or electric cable. Therefore, you will also need to allocate a sum of money for contingencies.
There are some renovations that require planning permission and health and safety checks to be carried out once the work is done.
You will have to find the money to pay for the personnel to carry out these checks, so remember to factor this into your plan.
Save Money Where You Can
It is possible to save money by shopping around for some of the materials needed for the renovation.
For example, I have saved money by going online on auction sites and internet shops, and performing price comparisons on identical or similar kitchen cabinets and worktops.
When it comes to the aesthetics of the renovation, it can be worthwhile buying secondhand or, as some people prefer to call it, pre-loved.
Salvage and reclamation yards are interesting places to visit, and it is possible to pick up quality items very cheaply. These items can either be used for their original function, or repurposed, such as using plantation shutters to create a unique headboard for a bed or storage unit.
Wrapping Up
A budget plan may take a little bit of effort and research on your part, but I can assure you that it will certainly be worth it when your renovation project has been completed and you can congratulate yourself that you have not overspent.
Have you ever done a home renovation?  Share your thoughts and comments below.