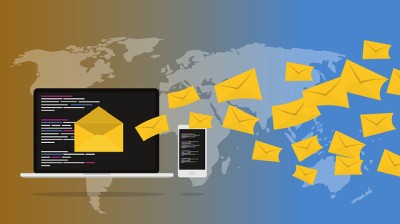 Notwithstanding the point, people don't use electronic mailing as regularly as instant chats; these tools make up a vital element of online performance.
In cases when we want to transfer big data massives or prove registrations, we have to indicate our mailbox.
Undoubtedly, the majority of trendy and free mailing services fit daily use. But security-conscious users who strive to protect their sensitive data should apply to encrypted mailboxes.
These services provide better confidentiality and assurance against information leakage.
What is the best secure email? Well, the market is growing day by day so that you should monitor the trends. This review gives you an unbiased description of 3 testes mailboxes. Dig into the details below!
Best Secure Email of This Year
#1 – Utopia
Utopia is not a conventional email service you got used to. uMail is a part of an encrypted environment combining apart from the mailbox, the chat room, browser, financial center, and automated mining.
The whole network, as well as the email, is secured by the robust encryption structure. Domestic activities are protected with the rapid Elliptic curve and 256-bit AES processor. The communication is P2P, which means uMail and extras don't store the data on a central server.
This mailing tool is free from tracking and advertising as well we the whole ecosystem. At the same time, you can connect only those users who register their email within Utopia; no sided services are available.
uMail is also convenient, along with cybersecurity features. Thus, you can draft Templates for some routine letters and reuse the same layout daily.
This trait makes correspondence effective and easy. Besides, you can switch on the Hybrid mode allowing you to operate several tools in the same window – messenger, email, contacts, etc. So that this mailbox's perks are:
Sophisticated encryption;
Decentralization;
Anonymity;
No tracking, no ads.
The extra reward is the opt-in Mining tool, which you should activate to gain coins every 15 minutes of being online. Try to feel safe and capitalize!
#2 – CounterMail
Pay attention to CounterMail if the protection of your data transferred online is crucial. The issue is the mailbox implies a trusted functioning of OpenPGP encrypted mailbox in a browser. The domestic server solely holds encrypted emails.
Moreover, the servers based in Sweden don't store the information on hard disks. The inside data is concentrated on secret CDs. The composition of this service promotes beating data loss because a server is the main goal for hackers when they intend to intrude. Thus, the removal of accessible data warehouse improves cybersecurity.
Additionally, CounterMail recommends users organize an internal USB warehouse to encrypt the data. The key to decrypt mails is saved on the gadget and is required even to verify a user's account. In case your keys got hacked, fraudsters won't be capable of reading the content anyways.
The mailing tool is convenient and straightforward. You can synchronize it with a web searching software on your device. Also, the IOS app is at your disposal. The browsing of email is convenient, thanks to integrated filters. Furthermore, CounterMail is supplied with a domestic manager of passcodes. A user's IP is never tracked and kept.
Bear in mind this mailing tool is payment-free just for the first week. After, you will pay a fee for using it. Also, users can mail to those who register their mailbox within CounterMail.
#3 – Hushmail
Hushmail is a widely tried encrypted email rolled in the publicity in the early 2000s. The protection is managed thanks to excellent encryption methods.
The point is neither the team can read your emails nor sided parties. You can interact and exchange mails either inside the service or outside with people registered with other platforms.
The ways of use are various and wide. You can set up Hushmail on your PC or run encrypted communication from any mobile device no matter what OS do you apply.
Additionally, the mailbox proposes numerous domain names – you can choose several for business, personal mailing, and one for spam registrations. That is a very convenient feature that you can fine-tune notifying to receive on your other address to stay aware of every new email you get on your Hushmail account.
Furthermore, this mailbox is performing the electronic signature mechanism. Remember, you are welcome to set aside numerous email boxes with a particular domain. This opportunity assists that you cover your persona online.
Hushmail account is a worthwhile alternative to popular services. The protected service fits the working environment, as well as personal communication. Bear in mind the point that the usage is payment-free just for the first 2 weeks; to prolongate the use, you will need to pay.
Conclusion
Now you are well-informed about up-to-date ways to protect the information you pass via mailboxes.
All the mentioned in this review services are proven and P2P encrypted.
Also, to improve your privacy, take advantage of VPN tools, encrypted safe messengers, and quit social media usage. Stay safe!