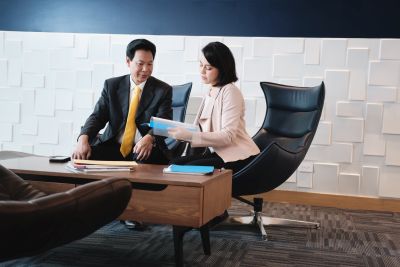 Many people struggle with their finances due to poor financial decisions, lack of budgeting know-how, among other issues.
Ultimately, they end up in a debilitating debt rut or even worse loss of their homes, businesses or other assets.
While it is not easy to open up your finances to a stranger, working with a financial advisor can help you avoid such a situation.
When it is Time to Hire a Financial Advisor
If you feel lost when it comes to financial planning, it is time to hire a financial advisor. These experts counsel you on wealth management and other personal money matters. Some of the other advantages of using these professionals include:
Helping you draw up an effective plan for fulfilling your investment objectives
To create a solid wealth-building plan
Offering full-time financial expertise in all aspects of your finances from investment, insurance, taxation, estate planning, among other things.
Researching the best investment opportunities to suit your financial situation or objectives
Offering you peace of mind as you can focus more on your family and business
They guide you after a major life event such as graduation, marriage, having kids or inheritance.
7 Questions To Ask Potential Financial Advisors
The demand for financial advisory services has gone up over the last few decades. This has seen more consultants set up shop both online and offline. If you feel it is time to hire a financial advisor, you should take the time to find the best expert to suit your financial needs.
Here are some questions you should ask every potential financial advisor you interview:
#1 What is Your Qualification?
Most clients hire financial experts based on the information they have seen on adverts, and this is the greatest mistake you can make.  The first question you have to ask a financial expert is their credentials to determine if they have the expertise you need.
The best financial advisors will proudly display their designations including the certified financial planner (CFP), chartered financial consultant (ChFC), chartered life underwriter (CLU), personal financial specialist (PFS).
Financial experts with different designations are best suited to offer specific services. For instance, a CPA is the best choice if you have problems with your tax affairs while a PFS comes handy for personal money matters.
#2 What Do You Like About Your Job?
It is not the first question that comes to mind when you interview a professional, but it is pertinent. You will get a chance to evaluate the dedication and passion the financial advisor has for the clients from the answer you get.
Look for a financial expert whose mission or desire is to help people get the best out of their finances. Whatever your financial situation, it pays to work with a financial advisor who's not just punching the clock.
#3 What is Your Investment Philosophy?
If your objective is to build wealth, you need to query your financial advisor's long-term strategy. The best professionals lay out a clear strategy after assessing your finances. For instance, if you want a business financial expert they can recommend other digital marketing solutions to grow your business.
If they jump into defining their plan without querying your financial objectives or you can't understand their investment approach, keep looking. Look for a financial expert who proposes diversification and close observation of the market situation.
#4 Are You a Fiduciary?
This is one of the most important questions to put to a financial advisor because fiduciaries will put your interests first. Financial advisor work for Registered Investment Advisory (RIA) firms and are bound by fiduciary duty. They are more trustworthy and have no conflict of interest when recommending products.
Investment advisors, on the other hand, work for banks and other financial institutions. Always be straightforward when interviewing financial advisors and ask them if they have any conflict of interest due to their association with financial organizations.
#5 How Are You Paid?
You should understand that Investment advisers acting and fiduciaries only receive your compensation. However, those in the employ of banks, brokerage firms, mutual fund companies, and other financial institutions receive a commission from their employers. They push serves and products with an eye on the commissions.
It is important to know how you will compensate your financial advisor beforehand. The most common payment structures are hourly, per transaction, or annually depending on the value of your assets. The fee should not be a major determinant because some consultants charge higher and offer exemplary financial solutions.
#6 What's the Channel of Communication?
You should agree on how you will touch base regarding the investments. Monthly meetings are ideal though some consultants recommend quarterly updates.
#7 What Happens to My Money if Something Happens to You?
It is an uncomfortable question, but one that could just save your investments. If the advisor leaves the business or dies, there should be a plan for continuity and you should agree on this from the start.
Final Thoughts
Do you think a financial advisor can help with your financial situation?  If so, you have to hire the best from a crowded market. These questions will help you identify a financial advisor best suited to help with your unique financial needs.
The answers provided will help you evaluate the suitability of any candidate you interview.