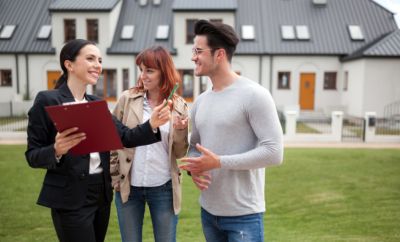 Even in the age of internet, buying a home still involves people.
Despite the rising popularity of house hunting apps and websites, customers still prefer human interaction when searching for the perfect home. In fact, more than one-third of home buyers used a real estate agent to help them with their search.
As a realtor, you're facing a lot of competition. Currently, there are about two million real estate agents in the U.S. alone. The only way to stand out from the crowd is to be creative and strive for customer service excellence.
Remember, it's all in the small details. To succeed, you need to set aside time every day to grow your business and build a strong network of prospects. Also, it's important that you leverage the power of technology.
Not sure where to start? Here are five actionable tips on how to become a successful real estate agent:
1. Become THE Neighborhood Expert
Each customer has different requirements when it comes to buying or renting a property. Some want to find a home that's close to parks, lakes, and other natural settings. Others want to live in the heart of the city and have easy access to the best clubs in the area.
One way to differentiate yourself from the competition is to become THE neighborhood expert.
Choose one or more areas and learn everything about them. Make sure you know where the best schools are, what entertainment options are available, and how people feel about living there.
2. Put the Customer First
Customers want to deal with businesses that can genuinely show that they care about their needs and wants. Not even the best apps and social media freebies can replace human interaction.
Treat your clients equally and keep an open line of communication. A customer who is now interested in renting a small studio might use your services to purchase a villa in the near future. Perhaps he wants to see what is like to live in that area before taking the next step.
Referrals from past clients are the main source of business for real estate agents. The better you take care of your customers, the more likely they are to use your services again and recommend them to others.
3. Start a Blog
In this digital age, building a strong online presence is mandatory. Millions of people are using the Internet to browse properties, take virtual tours, and find local realtors.
Surprisingly, more than 74 percent of real estate agents don't have a blog. Approximately 10 percent don't even have a website. If you're one of them, you're missing out on potential leads.
Set up a blog for your real estate business. Write about the hottest spots in the city, popular neighborhoods, industry trends, and so on. Provide house hunting tips and insider information.
Go online for inspiration. Strong Edge Realty, for instance, features property listings, blog posts, and catchy images for each property. You can do the same — just remember to add a personal touch.
4. Leverage the Power of Video
Video marketing is one of the most powerful tools for growing your business and revenue.
Real estate listing featuring videos get over 400 percent more inquiries than those that don't. About 40 percent of buyers take virtual tours before making a purchase decision.
Make videos of the properties you're planning to sell or rent. Share them on YouTube, Instagram, Facebook, and other online platforms. Post them on your blog as well as on real estate websites.
You may also create videos that provide helpful tips to prospective buyers or tenants. It's a great way to show your human side and build a solid online presence.
5. Be Active in Your Community
Promoting yourself locally is just as important as marketing your services online. Attend networking events and hand out business cards. Go to meetings and workshops for realtors and other industry professionals.
Partner up with other local businesses, such as home decor stores and furniture stores. Exchange flyers and brochures with them and cross-promote each other's services online. It's a good way to expand your network and reach new customers who may not know about your business.
How to Become a Successful Real Estate Agent the Smart Way
Success doesn't come overnight. However, there are a few things you can do to grow your real estate business and generate more revenue in a relatively short time.
Now that you know these tips on how to become a successful real estate agent, take the steps to a lucrative career. Come up with a business plan, experiment with different strategies, and track your results.
Most importantly, get to know your target audience. Check out our real estate section to find out more!