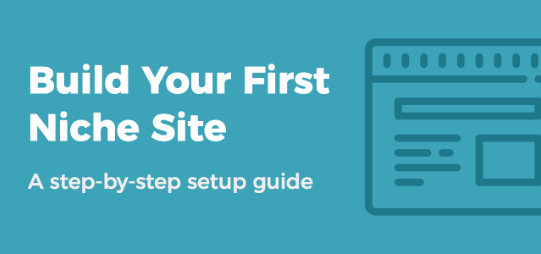 There are multiple times when you have thought of building a niche site and start earning dollars in thousands on a monthly scale.
This can work as your passive income and can act well to add a bit of luxurious touch to your lifestyle.
If you are one of the thousand others planning to get a living on the internet, this thought of creating a niche site might have crossed your mind one time at least, if not many!
Simple and straightforward:
The idea of niche website is definitely a fascinating point on the internet. It is a hardest yet simplest thing, you can possibly get to do online.
The steps for creating a successful niche site are extremely straightforward and can let you earn anywhere from hundreds to thousands of dollars on a monthly scale.
For that, learning the easy steps is rather necessary. If you fail to do so, then it won't be long when you might lose your interest in creating a website and fail in it too.
There are some people out there, who are already earning thousands of dollars by creating websites but those sites have hundreds of faults in them.
You can come across some serious technical faults, lack of SEO skills and even spamming on those sites. It won't be long when Google will trace them and will shut down the site completely, leaving them penniless at the end.
If you don't want the same to happen to you, it is time to learn the steps first.
Follow the steps now:
As mentioned already, the steps are rather simple and will need some dedication and passion towards following it. There are so many details for you to follow for that lucrative result, and you have to work hard to get it.
Step 1: Develop your ideas.  You can start off by writing multiple niche based ideas coming to your mind, on a piece of paper. You can narrow the niche depending on higher price and lower volume, wide product ranges you can discuss and review, the presence of affiliate programs with proper commissions and whether people are following this niche and earning money from it or not.  Bestmattress.reviews is a good example for this.
Step 2: Setup Your Website.  You can log online to come across some tutorials and then work on the setup process as mentioned already in those sets. Now comes the hard part when you have to work on creating content.
Step 3: Affiliate Programs. Once you are done with that, you need to sign up for the affiliate programs, which are associated with new content and website. Make sure to do your bit of keyword research for finding around 5 to 10 keywords or phrases to rank for.
Step 4: Add Your Plugins. You can try installing Yoast SEO for the WordPress section and go for the on-site SEO for the pages and posts. Now comes the time when you have to start creating lists of colleagues and friends, whom you can send an email regarding the new website.
Step 5: Setup Social Media.  You have to work hard and get yourself some social media pages for the new site. Choose to create pages on Twitter, Facebook and even on Pinterest, as some of the powerful networking channels currently. Make sure to get a list of some syndicated publications and large blogs, you want to feature. After that, you have to start contacting some previous blogs and websites for story ideas and guests posts.
Step 6: Build Your Email List.  For the last few steps, you need to create a premium quality PDF or the email series to collect some of the noteworthy email addresses. After you have done that, you can add the same to the website. For the last step, you have to again start creating content and contacting some of the previously listed websites and blogs for guests posts and other new story ideas. You have to continue with these steps for creating social media channels and end up with SEO based links.
Be sure to follow the steps correctly:
The steps are already mentioned in details and can clearly show how simple the steps are for creating that niche website. If you are not quite sure of the options to follow around here, then it is the time that you get some details over here.
Always make sure to contact the experts in creating niche websites and check some of their examples to get a glimpse of their works.
Are you thinking about setting up your own niche website?  I would love to hear your thoughts about this in the comments section below.
Cheers!