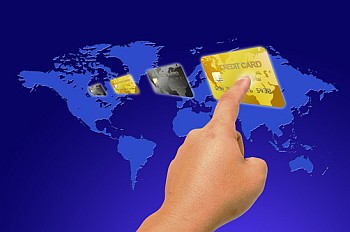 I've been traveling at least once a month for over 10 years due to my job. I have enjoyed a successful career in sales, and I visit retail locations throughout the United States and Central America to meet with branch managers and train new employees.
The Problem I Was Dealing With
Last year, I started noticing that I was thriving in my career, but my family was suffering. My wife and two teens were feeling a bit neglected because of my busy schedule. I realized that I only had a few more years before my teens would leave home and go to college, and I wanted to make the most of those years.
I have always loved traveling, and I decided that I wanted to introduce my family to some of my favorite places that I had visited on my business trips. However, I knew that the cost of airline tickets for four people could add up quickly.
Searching For A Solution
A few days later, I was talking to my neighbor about rising travel costs, and he mentioned that he earned his flights for free using a miles credit card. I was excited about this prospect, and I was determined to find the best miles credit card.
When I performed an Internet search, I was amazed by how many different credit card options were available. There were cards that offered points, cards that offered miles, cards that were tied to specific airlines, cards that could be used anywhere and many more choices.
I asked my friends and family members for recommendations, and I was able to find several cards that were highly recommended by people I trusted.
Research is important before you apply for a new credit card, so I spent several hours researching the features, benefits and fees of various cards.
The reward values varied widely among companies, and I wanted to make sure that I was getting the best value possible. I found several cards that would meet my needs, but I ended up applying for the Capital One Venture Rewards card.
The card has a reasonable annual fee of $59, but it is well worth the money for the perks that I receive. With my Venture Rewards card, I receive two miles for every dollar that I spend on my credit card.
One of the things that initially attracted me to the Capital One Venture Rewards card is the fact that it offered a generous bonus. After I spent $2,000 on purchases during my first three months as a cardholder, I received a bonus of 20,000 miles.
The Solution
Once I received my new card, I was determined to use it as much as possible. I used the card to book all of my business travel, including flights, hotels, meals and other expenses. This really helped my miles add up quickly.
I also consistently used the Venture Rewards card when I was at home, and I added my wife onto the account so she could make purchases, too. I was surprised by how quickly the miles added up just from our regular purchases of gas, groceries and necessities.
After 10 months of using my card, I was ready to surprise my family with the trip of a lifetime. The Venture Rewards card allows you to book flights on any airline at any time, and there are no blackout dates.
Because of this, I was able to shop around and get the best prices and flight times for my family's schedule. I even had enough miles left over to pay for our first night at a hotel.
I will never forget the look on my wife and kids' faces when I told them that we were going on a family trip to London! The trip was everything that I hoped it would be. We saw so many beautiful sites, took way too many pictures, laughed together and made lasting memories.
The Capital One Venture rewards card was even helpful on our vacation. We used it for our purchases in England so we could continue to earn miles for our next trip. I really appreciated that there were no foreign transaction fees added when we used our card, so I did not have to worry about any extra fees.
Thankfully, our trip went very smoothly, but I appreciated the fact that I received $250,000 travel accident insurance because I booked our trip with my Venture Rewards card. This gave me peace of mind because I knew that my family would be protected if the unexpected occurred.
Final Thoughts…
I am thrilled with my Capital One Venture Rewards credit card, and I plan on using it to cover many of my family's travel expenses in the future. I believe it is the best miles credit card for my situation, and I am happy to recommend it to others.