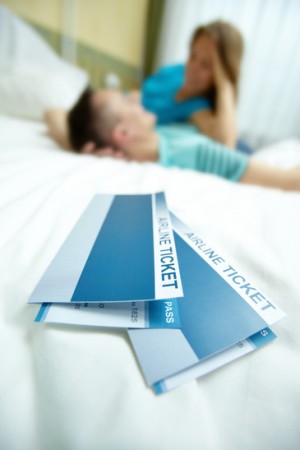 In this episode of the Stumble Forward Podcast I will be covering my 9 tips to finding cheap airline tickets.  Recently I just booked my flight to Fincon#14 also known as the Financial Bloggers Conference.  When it comes to purchasing tickets for these kinds of things I typically follow some very specific steps in order to find the best deal.
In fact I was able to land my tickets for $283 which is a really damn good deal.  When I compared the surrounding airports over a several week period I found that getting a better deal than that was pretty much nonexistent.
On top of that what's also very interesting is that I actually bought the tickets right from my smart phone which is something I've never done before but I couldn't resist the deal and I jumped on it right away.
In the end great deals for airline tickets are out there you just have to know how to find them and in this podcast episode you will learn the 9 things I'm doing to find cheap airline tickets.
What You'll Learn In This Episode
Learn how I like to shop for airline tickets online
Learn about the travel sites I use to find the best deals
Learn which day is the best day to book your fight
Learn what triggers higher flight cost and why prices with other flights are cheaper
Learn how some airlines may vary prices based on the device you use
9 Tips To Finding Cheap Airline Tickets
Start Looking Ahead Of Time –  Don't waste time and start looking for tickets way in advance, in fact you typically start looking 330 days in advance.
Consider The Day You Fly – The day you book your flight and the day you plan to leave because they can have a dramatic on the price you pay.
Consider The Time Of Year and Destination –  Figure out when the cheapest time of year is to fly to your target destination is and it could save you hundreds.
Be Flexible – Consider being flexible as possible and wait for the best deals to find you instead of chasing them down by having them sent straight to your inbox.
Consider Stand By – If you have the time consider holding back by going on Stand By if your airline is looking for people to hold back for the next flight and and you could get some free tickets for your next flight.
Get A Rewards Credit Card – Sign up for a rewards credit card and get your airline tickets paid for by just paying your regular monthly bills.
Check Airfare Watchdog – Airfare Watchdog allows me to check several sites all at once and find the best deal.  You will also learn how this site can do all the heavy lifting for you.
Check Discount Airlines –  Did you know that some airlines don't show up on all the travel sites?  In fact their are several discount airlines that could save you a lot when you book directly through them.
Consider The Device You Order On – Finally, did you know that the device you order your tickets on could matter as well.  Learn what I did find cheap tickets with my iPhone.
Links Mentioned In This Episode
How To Get Dirt Cheap Airline Tickets
Credit Card Churning at Club Thrifty 
Flight Network – A website I didn't mention in the podcast but can be a great place to shop for airline tickets.
Capital One Venture Credit Card
Wrapping Up
Now that you've seen how I buy cheap airline tickets I would like to hear your thoughts, tips, and comments.  What do you do to find cheap tickets, or maybe you have a story to share what not to do when buying airline tickets.  Share your thoughts below.
Finally, if you get a chance subscribe to my podcast and leave a review which you can do over in iTunes and Stictcher. Check out the links below and do that now.
Thanks for listening and I will see you in the next episode.