Do you want to sell your timeshare now?  With so few options for those who wish to sell their timeshare, I took it upon myself to search the world over for a service that really has their customers at heart.  This is when I came across Sell My Timeshare Now.
Unlike most timeshare resale companies Sell My Timeshare Now has a unique perspective on the market that no other timeshare company has.
With SMTN they focus on bringing qualified buyers in through the search engines like Google, Yahoo, and Bing to their website.  In fact, they bring in nearly 12,000 visitors every single day, and over 66% of that traffic is unique visitors who want to buy, sell, or rent a timeshare.
For example, if they rank first in Google for buying a timeshare in Aruba, the chances are this particular person is fairly qualified and wants to buy an Aruban timeshare.  This is exactly how SMTN brings in all of their qualified prospects to their website.
To prove my point of just how much traffic they get look at the picture below.  Here you will see a daily snapshot of how much traffic Sell My Timeshare actually gets per day.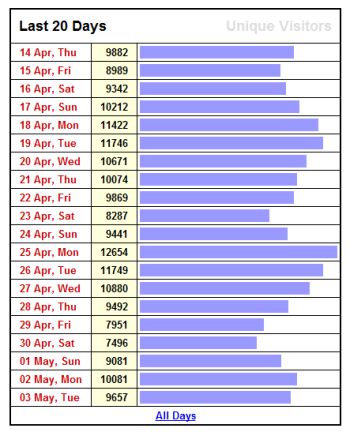 Now you might be saying any dummy can create a website and sell their timeshare on the web, but I bet they won't be able to get the kind of traffic that SMTN gets.
You also might be wondering if this company gets that much traffic how many deals could they possibly get?
In one word, TONS!  Just look at the picture below.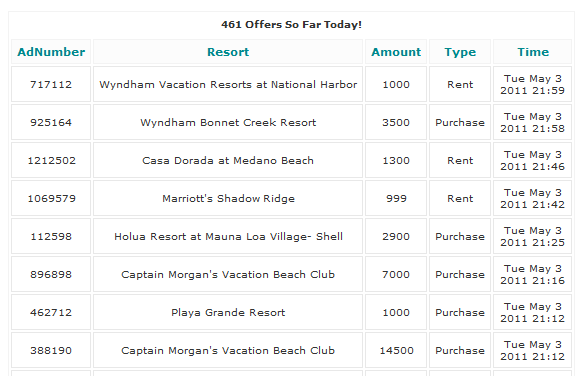 In just one day they had 461 offers to purchase or rent a timeshare.  Now I understand that they are just offering but there is a big difference between this and other timeshare resale companies I've worked with.
First off, I like the fact that they actually show you the proof of who's buying and what kind of potential you have to sell your timeshare.  This kind of information just isn't found with other companies.
Secondly, they give tons of great quality info about selling, buying, and renting your timeshare.  I've also found some great info on how to donate your timeshare if you can't get rid of it.
What I Don't Like About Sell My Timeshare Now
Sell My Timeshare Now is obviously a legit company and not a scam but to make this review fair I'm also going to cover a few things I do not like.
No Fee Disclosure. This is one of the biggest reasons I dislike companies like this when they do not show their prices.  It just might be me, but I feel when a company shows their pricing it makes everything feel more legit plus I like to know what I'm getting into before I sign up for anything.
The Market Is Competitive. You also have to consider how competitive the market is for people selling their timeshares.  Now obviously people are buying but when you do a search for people selling there are thousands of people looking to sell.  This may make things that much harder for you to find a buyer.  To prove my point look at the picture below.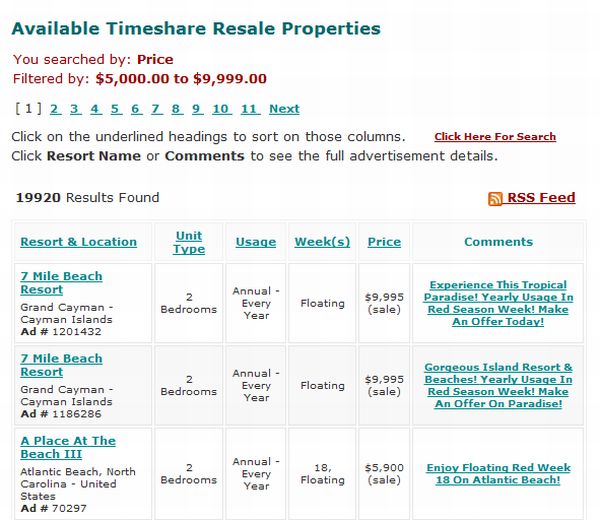 Above is a picture of just one search I did for timeshares listed between $5,000 to $9,999.  Notice that there are nearly 20,000 results listed and that selling your timeshare is going to be a competitive process.
However, I should also mention there is one good thing about this though, if you are looking to buy a timeshare you'll probably find a lot of really good deals here.
Your Only Paying For Advertising.  Finally, the last thing you should know is that SMTN is not a broker service that only gets paid when they sell your timeshare.  Instead, they are advertising services listing people timeshares for rent, or for sale.
Call To Action
Is SMTN for you?  To get more info and even a free estimate on what your timeshare is worth check out Sell My Timeshare Now to learn more.
So what are your thoughts about Sell My Timeshare?  Feel free to leave a comment and leave your opinion.