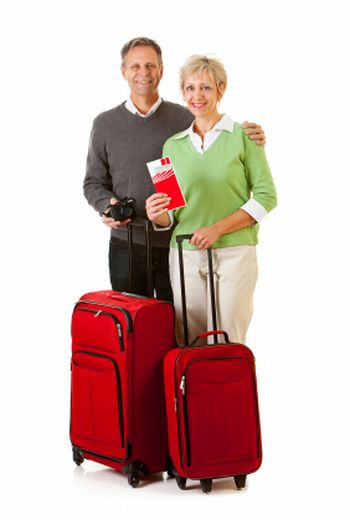 Some of us have reached that point in our lives where we have retired and are looking forward to those dreams of travelling the world. As trips are planned, one thing that many don't account for is finding the best travel insurance for elderly travelers. Because insurance companies fear that older people are a greater risk, rates tend to go up proportionately to the age of the person being insured. However, the term elderly doesn't really have a defined age so the first thing you need to do when looking for a policy is ask, "at what age is there a price change when it comes to travel insurance for the elderly?"
A consensus seems to be that at the age of 60 a person is considered elderly in the insurance world. Unfortunately, travel insurance for seniors see a rate increase at this point even if they are in better shape and health than someone half their age.
Coverage Needs
When it comes to any travel insurance, there are certain things that your policy needs to cover. Travel insurance for elderly people is no different. When choosing a policy, make sure that at a minimum the following are covered:
Illness
Hospitalization
Emergency treatment
Accidents
Loss of luggage
Theft
Repatriation
Emergency evacuation
Death
Cancellation
Once you have the minimum covered, you can start looking to add on riders to protect you against other things that can happen while you are travelling abroad. Keep in mind that adding riders to cover baggage delays, dental costs, rental cars and 24/7 assistance will add extra costs to your policy so if you are looking to save money, leaving these off your policy may be a better way to cut costs instead of under insuring yourself and personal items under your base plan.
Types of Policies
There is no question that travel insurance for the elderly is more difficult to obtain than the same type of protection is for younger travelers. This can be a consideration when it comes to what type of policy, single trip or multi-trip, you decide to purchase.
If you plan on only taking one trip over the next year, or maybe two, then a single trip policy is the much less expensive option. This gives you a chance to save some money for a nice camera or souvenirs from whatever foreign land you will be visiting.
If, however, you are planning to log as many miles as possible over the next year then a multi-trip policy is certainly the best option. With this type of policy you will not have to worry about coverage for the length of the policy and you will be able to lock in rates that are often renewable so in the long run it will actually be a more practical plan.
Most importantly, finding travel insurance for the elderly is just like any other type of insurance plan. Call around and find out what the different insurance companies have to offer before buying any plan. Odds are that after a few calls you will be able to find a plan that covers your needs at the price you find to be reasonable.
Jeff Orloff writes on insurance for the Consumer Media Network's Travel Insurance Blog (http://travelinsurance.org).