If your planning to buy life insurance you may have considered talking to your local insurance agent to even looking online.   However before you consider one particular option you may want to to take a look at Accuquote first.
Accuquote has been around since 1986 helping people find the right life insurance policy.  They've also been highly recognized in the media by CNN, Kiplinger.com, The Wall Street Journal, and The New  York Times to name a few.
They also deal with top name insurance companies such as Prudential, Transamerica Life, Fidelity Life, and many more.  However they don't just carry an online presence in fact they are located in Wheeling, Illinois and also have a satellite office in Golden, Colorado.
In this article I'm going to cover what I like about Accuquote and what I don't, and finally I will cover who will best benefit from Accuquote life insurance.
What I Like
The first thing I like about Accuquote life insurance versus other insurance options is that they allow me to shop the market from one place.  The problem with going to most insurance agents is that they usually only have one or two companies that they like to work with while with Accuquote the can quote many different companies to find out who really has the best rate.
Second, they have a ton of resources at your disposal such as articles, podcast, videos, and even calculators to help you see how much life insurance that you really need.  Most online resources I've reviewed didn't even have a quarter of the stuff they offered and your local insurance agent definatly will not have all this information on hand.  How do I know,  because I use to be a life insurance agent myself.
Third and finally, with Accuquote.com they don't just deal with one type of insurance.  While they do specialize in term life insurance they also deal with permanent life insurance, childrens life insurance, final expense insurance, no medical life insurance, and even convertible term life insurance.
What I Don't Like
As great as I think Accuquote is I didn't think it would be fair to you to just tell you all the benefits, so I'm also going to share a few dislikes that I have as well to make this article fair and just.
First, with Accuquote insurance I found that they ask for a lot of information when you go to sign up for a quote.  In fact I've found most online insurance companies tend to ask mostly just for your contact info.  However with Accuquote they not only ask for your contact info but also want you to answer a simple health questionaire as well.
These questions range from if you've had any felonies, to seeing if you've ever had any major medical issues such as cancer, or heart problems.  On the other hand one reason they ask for more info versus most other companies is that they want to be able to put a more accurate quote together for you.
Secondly, the other negative to going this route is that you won't be able to work with an agent face to face as you would if you would have contacted your local insurance agent.  On the other hand Accuquote does offer the option to call or even chat from your home computer.
Who Is Accuquote Right For
First off, Accuquote make a great option for the elderly.  Life insurance for the elderly can sometimes be very expensive depending on age, and health conditions.  With Accuquote I've found online insurance quotes to be much lower than if you would go through your local insurance agent.
Second, this option works great for those that don't want to pay a dollar more for their life insurance than they need to.  I've run quote many times with online insurance brokers and found that their rates are unbeatable.  In fact here is a quote I recently ran on myself.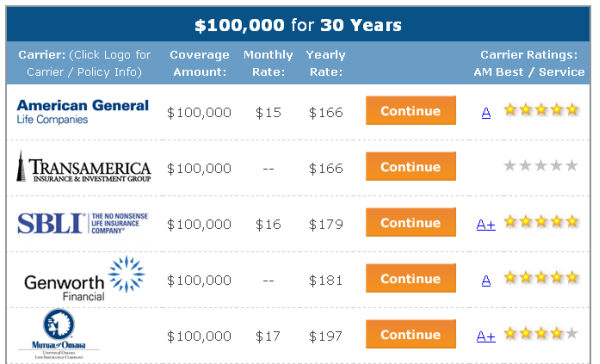 As you can see in the picture above I could get a 30 year term policy with a $100,000 worth of coverage at the age of 30 for $15 a month.  That's as cheap as I've ever seen.
Finally, this option works great for those that don't want to deal with a pushy insurance salesman.  As a former insurance salesman myself I can tell you how pushy some of them can be.  The reason for this is because they almost all work on commission, which means if they don't make the sale they won't get paid.
With Accuquote their is no salesman to push you into buying life insurance.  You can take your time and research your options as long as you need.
Call To Action
So, are you ready to go to the next step?  If so click the link below to get a quote.  I should also mention just because you get a quote doesn't mean you have to buy but at least you'll know what your options are.  To get started go to www.accuquote.com.