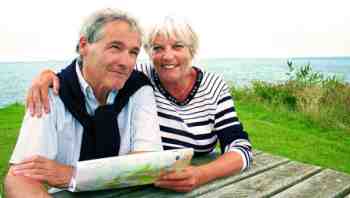 When you are in your golden year's debts like a mortgage, car loans, and credit cards are usually a thing of the past.  However, that's not always the way it works out.
The mortgage is not always paid off, your credit cards are still loaded up and you still have to pay that car off.  On top of that, you may still want to be able to pay for your funeral expenses and even provide a little extra to your loved ones as well.
However there is another problem being older now and that is you may have several major health issues now like heart problems, high cholesterol, and other health issues.  With a higher age and preexisting health conditions, it may be hard for you to find a Life Insurance
company that will even cover you.
There is an answer though, Guaranteed Acceptance Life through the AARP which has some of the best life insurance for the elderly.    In this article, I am going to cover what this policy will do, the benefits and some of the downsides.
What Is Guaranteed Acceptance Life
AARP for elderly people has some of the best life insurance for aging seniors and the Guaranteed Acceptance life insurance policy through New York Life is no exception.
First off, this policy gives you up to $15,000 of coverage and you don't need to take a medical exam or even answer any medical questions.  You cannot be turned down for this policy.
On top of that men can sign up between the ages of 50 to 80 and women can sign up as early as 45 and as old as age 80.  Also, rates will not increase just because you get older, in fact, the premium will not change at all, and you can keep the policy as long as you want or until you pass away.  This policy also has a nice paid-up feature which means if you pay up till the age of 95 you will no longer have to deal with any more premium payments and you can keep the policy till you pass on.
Finally, once you get the policy and if for some reason you don't like it you will be able to cancel the policy at any time within the first 30 days and your premium payments will be refunded back to you.
Down Sides To This Plan
As good as the AARP Life Insurance
for older people is I should warn you about some potential downsides to this policy.  The first problem is that there is an exclusion on this policy which says that if you commit suicide you will not be covered for this policy.  This is a typical exclusion found on almost all life insurance policies.
The second downside to this policy is that there is a two-year rule which says that if you die from natural causes within the first two years of owning this policy they will not cover you. The reason they have this rule is that they want to prevent people from gaming the system.
If you were to be on your death-bed and you paid only one payment and died tomorrow you would be able to get the benefit without contributing much in the way of premium payments.  On the other hand, if you were to die in an accident of some kind you would still be awarded the full death benefit.
Is Guaranteed Acceptance Life For You
After reading this article you may have a lot of questions about this policy and I want to learn more if so you can check out New York Life.
If you would like to learn about some of the other programs that AARP life insurance for seniors offers you can check that out here at affordable life insurance for the elderly.