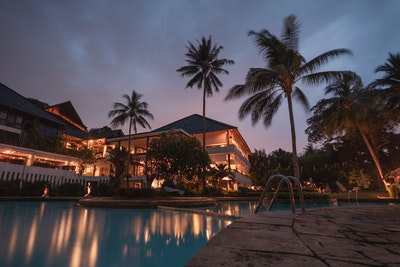 Has the thought of buying a timeshare ever crossed your mind?
You may have heard how inexpensive timeshares can be and how easy they are to use.
However, in this article, I'm going to challenge that myth by comparing the cost of buying a timeshare to the cost of going to an all-inclusive resort.
In this mock example I'm going to compare a timeshare resort from Aruba called the Caribbean Palm Village since I use to own a timeshare there and I will be comparing it against The Hotel Riu Palace Aruba.
The Timeshare
Timeshares charge many different kinds of fees when you own one.  You also have to consider the loan cost when you do buy a timeshare as well.  Here is a list of the fees that I had to pay when I owned my timeshare.
The timeshare loan.  The total cost to buy a one-bedroom week at the Caribbean Palm Village was $4500, however, we used the resort's financing and the interest rate on the loan was 16%, which gave us a payment of close to $110 a month.
Maintenance Fee.  The next fee that timeshares will charge is what is called a maintenance fee.  This fee is collected to pay for the annual maintenance that needs to be done to take of the resort throughout the year.  My fee was $315 a year.
Interval International fee.  Interval is a resort exchange company.  Everyone who owns a timeshare has to sign up with one of these companies.  The company I dealt with was Interval International and the annual fee ran around $70 a year.
Exchange Fee.  Next, you have the exchange fee, this is a fee of Interval charges for you to exchange your room with another resort's room.  This is done so you don't always have to stay at the same resort every year but instead can exchange it with a different resort that comes up on the exchange.  The cost to do this is $100.
In the next list of fees, I'm going to cover fees that are not related to the timeshare itself but come as a result since they are not an all-inclusive resort.
Food. With a timeshare there is no all-night snack bar, you have to find food yourself.  So when I went to Aruba we stopped at a local grocery store and pick up a few things and since our room included a small kitchen were able to cook one night at our resort.  The total cost for food was $75.
Entertainment.  Next, we had to consider the things we did for entertainment since again the resort does not provide much for this except a swimming pool.  On the first day there we took an all-day jeep ride around the island to see all the sites like the California Light House all the way to the other side at Baby Beach.  The cost for two people was $200.  We also took a half-day sailboat ride which cost $150 for two and went horseback riding which cost another $150 for two, which adds up to $500.
Eating Out. Finally, you have to consider the cost to eat out in Aruba.  We ate at two different places during the trip which added up to a total cost of $160.
Now that you know how much it cost for us to buy a timeshare let's look at the alternative now.
The All-Inclusive Resort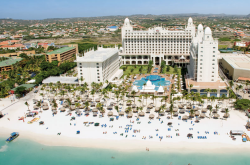 The first thing I noticed with all-inclusive resorts is there are no additional fees to everything but rather a flat fee per person.
For a 7 day vacation for two at the Hotel Riu Palace Aruba, the cost would be $2940.  You might be thinking that's a lot for just staying at a resort but here is what it all includes.
Breakfast, Lunch, and Dinner.  All meals are included in the price for two people.  In fact, this resort includes four different dining restaurants, plus snacks and room service 24 hours a day.
Drinks.  You can get unlimited local and imported beverages, drink services at the pool, and a minibar in the room.
Entertainment.  The resort also has daytime entrainment several times a week along with shows and live music.  On top of that they also have an on-site casino.
They also have a workout gym, beach volleyball, sauna, jacuzzi, and swimming pool.
Which Is Better
Before we start to compare the differences and see which option is better I should mention that a lot of the things I've mentioned can vary a little bit.
For example, the cost of the timeshare itself can vary.  In fact, a couple of my friends who have timeshares paid in excess of $20,000 for their timeshares were as I bought mine for only $4500.
Knowing that the total cost to buy the timeshare and use it for one week in the first year will cost you a total of $2540.  This is besides the cost of your airfare.
The cost of the all-inclusive resort is $2940 and includes everything I mentioned earlier.  So even when you compare the all-inclusive over the timeshare wins.  However, this could be argued that if you had a more expensive timeshare like a Marriott it would cost you far more and the loan payment would be much higher.
On the other hand, if the loan for the timeshare would have been paid in full the total cost for the trip would have only been $1220, saving you $1720.
How To Buy A Timeshare
As a couple of final thoughts to consider, why buy a timeshare?  If you plan to take many vacations over the years and plan to own the timeshare for a long time the investment itself will be worth it.
On the other hand, if you like vacations where you don't have to be tied down in one particular place then a timeshare may not be for you.
Second, you should also consider how to buy a timeshare as well?  The reason I say this is because when you're looking to buy timeshare properties prices can vary a lot from one place to the next.
Instead of buying at resorts, you may want to look into places like eBay and Craig's List.  With a slow economy, the chances of finding more motivated buyers are more likely in places like this.
Share Your Story
Are you looking to buy a timeshare or just bought one?  Let us know how this working out for you and share your story.  Is it better to buy a timeshare or is it better to go to an all-inclusive resort?