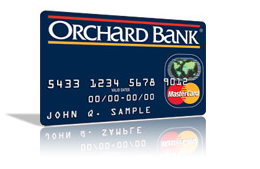 Is your credit history in shambles?  Are you looking for a way to rebuild your credit again but know that every credit card or loan you've applied for has turned you down.  In this article I'm going to give you a solution to that problem.  In this article I'm going to talk about the Orchard Bank Secured Credit Card and how it will benefit you.
Prepaid Debit Cards & Prepaid Credit Cards – CreditCards.com
Features Of  This Card
First off, this card is a secured credit card which means you will have to deposit money into this card in order to use it unlike an unsecured credit card were they will give you a credit limit.   There will be a $200 required minimum payment up front and that must be sent in with the application.
Next, the secured credit card from Orchard Bank also allows free 24/7 access to your account online along with free online bill pay no matter how many times in month you use this card.  When you also sign up online you also can sign up for email and text alerts to let you know what your account balance is so you don't go over your limit.
Which brings me to my next point, with the secured credit cards from Orchard Bank you definitely will not want to spend more than the balance on the card since  their is a 29.49% penalty that applies if you do.
On top of that their is a 7.90% variable APR for all purchases and balance transfers, and a $35 annual fee, but they waive this first for the first year.
Finally, this card also has a 100% fraud liability protection which will allow you to set your own personalized spending alerts to let you know what is happening with your card at all times.
Benefits Of This Card
This card has many benefits to it that are great especially for people with bad credit. First off, no application will be turned down unless don't make the initial $200 payment up front.
Second it works great for building up your credit history especially if you've just gone through bankruptcy, or a foreclosure.  In those extreme cases your credit will be tainted for the next seven to ten years and this card will allow to build your build up your credit a little faster.
Finally, if your the type of person that tends to overspend with a regular card the Orchard Bank Secured Credit Card will allow you to stay in control of your money and even remind you by sending you a text message to warn you.
Is The Orchard Bank Secured Credit Card For You
Is this card for you?  If you can identify with the benefits and reasons I've given you in this article this card may be for you.  However don't take just my word for it, check out other Orchard Bank secured credit card reviews to see what others are saying about this card.
To sign up for this card and learn more about check out Prepaid Debit Cards & Prepaid Credit Cards – CreditCards.com