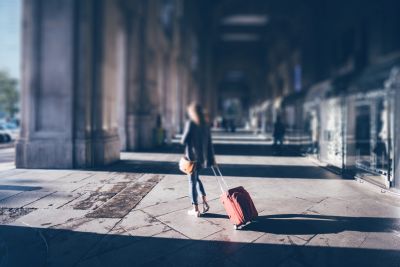 When you retire, you tend to have much more time on your hands and this makes it the perfect time to travel. There are so many great destinations around the world that you can visit and you can easily do it without having to go during peak times when you can get holidays from work. Many people in their retirement travel the world and you could do if you have the money.
Here, we are going to tell you about some of the best places that you can travel in your retirement. Keep reading to find out more.
#1 Mexico
If you are someone who likes hot weather then you will love Mexico and all that there is to do there.
This location is a great mix of luxury, nature, and history which can be really interesting for those who are looking for something a little different. Some of the best places to visit in Mexico include the Xcaret in Quintana Roo and the El Castillo in Yucatan. Make sure to add these locations to your bucket list.
#2 Canada
Have you ever been to Canada? This is a very popular place for those who are retired to travel to and there are many reasons why.
Canada is a huge place with lots to do whether you are hoping for a quiet holiday, one in a city like Toronto or you want to go skiing. Of course, if you do happen to go skiing or engage in any sports then we suggest that you pick up some medical travel insurance from Staysure.
This way, you can really enjoy Canada for all that it has.
#3 Thailand
If you fancy something a little different for your first retirement trip then we suggest that you consider visiting Thailand. This country has a lot to offer and its culture is really quite special. Whether you are enjoying the hustle and bustle of Bangkok or you are relaxing on Phi Phi Island, this is the perfect place for those who are newly retired.
Thailand has become a very popular destination for many travellers over recent years so make sure to give it a go.
#4 Spain
One of the most common places for those in their retirement to travel to is Spain. Mainland Spain has plenty of amazing cities that are frequently visited by travellers and there really is a lot to do there.
Many people from the UK who are retired even end up moving to Spain because of the warmer weather and the culture there. If you are looking for something relaxing with a bit of sun then Spain might just be the best place for you to travel to for something closer to home.
#5 Egypt
Have you ever wanted to see the pyramids up close? Egypt can be the perfect place for you to visit when you are in your retirement as you'll be able to relax in the hot sun as well as basking in the history that is available to see in this location.
Many people enjoy visiting Egypt so make sure to plan your retirement trip today.
Get Travelling
If you are about to retire or you are already enjoying your relaxing years then make sure to consider traveling to some of these bucket-list destinations. All of these locations have plenty for people of all ages to do and you'll be sure to check some activities off your bucket list.
We hope you enjoy your retirement and get to see some of the great countries in the world.