Let me start by saying that I loved working with WFG ( World Financial Group) for the last four and a half years.  In this article I am going to give all of the hard working knowledge I gained from being a part of this company as well as the not so good things.
What Is World Financial Group
World Financial Group, previously known as World Marketing Alliance,  is a financial services company that provides a broad array of financial products such as Insurance, Annuities, mutual funds and investment advisory services.

WFG is located in all 50 states, Canada and China.  They are owned by one of the largest financial firms in the business, Aegon.    WFG is also one of the biggest financial recruiting firms in the world, with nearly 10,000 recruits every month.
World Financial Group has been around since the early 1990's and has grown considerably since its inception.  They started out as a group of four founders and multiplied into thousands of representatives.
What World Financial Group Taught Me
When I first got started with WFG I heard a lot of stories about the company.  Some were proclaiming it as a total scam and advised me not to get involved.  However I decided that even if I could just learn how to manage my money better it would be worth it.  In fact, that is the first thing they taught me.
The truth is you shouldn't be giving financial advice unless you have your house in order first and that is what I did.  I got some much needed life insurance and set up a couple of retirement accounts.
Secondly, after getting started with WFG I learned to build great communication skills.  This skill taught me how to engage in conversations with people and win them over to my way to thinking.
Third, I learned how to run a business.  This was the major reason I got involved with WFG.  They taught me how start and run a successful business and the best part about it was they were there with me every step of the way.  With weekly and quarterly meetings I was always ahead of the curve with my business.
The Down Side To World Financial Group
During this  World Financial Group review my goal was to give you all of the great things I got out of this company but also give you the negatives as well.  It doesn't matter what opportunity you look at whether it be WFG or some other financial company like Primerica they all have some down sides to them.
With every business comes expenses and WFG has a few of them.  There will be others but at this point I am just talking about the expenses for the beginners.  The first of them being the $100 sign up fee, $125 in Canada.  This fee is paid directly to the home office and will get you your code number that you need in order to get paid.
Second, WFG is entirely commissioned based.  There are no salaries, or hourly pay scales.  You get what you earn. However this is not entirely bad, my first commission with WFG was a check for $500 for a mortgage I wrote.  At the same end don't expect to make money right away.  It took me around 5 months to get my first check.
Third, in order to get a commission you must get licensed.  This means you will have to dedicate some time and money to get all of this done.  Expect to pay around $1000 just to get the basic licensing and around 20 to 40 hours of state required time to get approved for your life insurance license.
Fourth, once you do get licensed you'll have to start paying what is called E&O insurance.  Think kind of like malpractice insurance but just for financial professionals.  This will be something around $90 a month before you are able to reap the rewards of your commission check.  Needless to say you have to pay to play with WFG.
Finally, everything I have mentioned above is nothing compared to the amount of work you have to put in to see the result you want.  Expect to be putting in some long hours at the office and at appointments until you get on your feet.
Who Is The Right Person For World Financial Group
WFG has brought in many people from all different kinds of backgrounds.  However if you are thinking you need at least a 4 year financial degree and prior experience think again.  In fact, WFG would prefer people that have no experience and degree.
Second, you should be willing to accept the financial cost I mentioned earlier.  However, don't get too worried if this is a concern for you.  I once knew a guy who took up a paper route to pay for all of his expenses.
Third, you will have to pass a background check.  This means if you have any kind of felony conviction you will probably not be able get involved with World Financial Group.
Finally, if you are able to follow some simple directions this may be an excellent opportunity for you.  However, just because something is simple does not mean it's easy.  If you're someone who is more of a rule breaker and like to do things your way this may not be for you.
How To Get Started
The easiest way to get started is if you know a friend in the business.  They would be able to get an interview set up for you and get you started.  However, if you don't have that as an option you can find an office nearby and give them a call.
The easiest way to do that is go to the World Financial Group Website here. Next, in the upper right hand corner you will see the words, 'Office Locator.'  Next to that click on the state you live in. If you live in Canada or another country you may have to call the home office.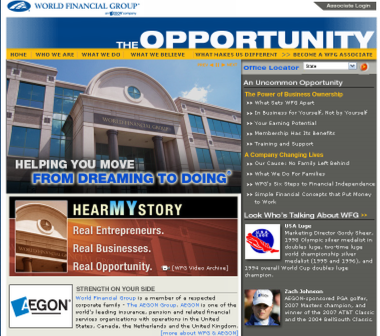 At this point a list of offices around that state will come up.  Select an office that is close to you and give them a call.   Ask them if you could attend their BPM ( Business Presentation Meeting)  This is a meeting usually held a couple times a week that explains more about the company and the opportunity available .  If you live in the city, offices will tend be close; however, if you live in the middle of nowhere you may have to do a little traveling to get there.  In fact, I had to drive an hour and a half to get to my office.
Now, there is a down side to doing it this way and that is that not all offices are created.  So when you do go to an office find out how successful they are.  Tell them you heard that World Financial Group has been a very successful company and you would like to know what kind of success they have had.
If they can't give a straight answer move on.  Also look for plaques and trophies and other awards that office has won.  The evidence should be clear.  If they don't have these things keep looking until you do find a good office.  If an office has a lot of success then there is a good chance you will too.
Chris
Reviewing
This post was recently featured in The Money Hacks Carnival by The Canadian Finance Blog.