In an attempt to help the followers here at Stumble Forward not fall for anymore financial scams I have an important post for you to read today.  Recently their has been an email scam going around scamming people on hundreds if not thousands of dollars.
Hotmail Scam Hits Home
In fact this scam recently hit home a few weeks ago by one of my brothers clients for his website building business.  His client who ran everything for her business through her hotmail account was sent an email something like this.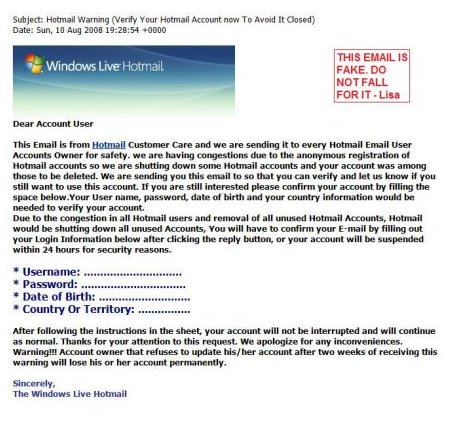 The email was a set up.  It ask for her username, password, date of birth, and country.  This email is meant to look legit.  However it is not.  The thing you should remember is that if this company already has your info they should never ask for it again.
I also want to point out this may not just be a hotmail scam either.  Yahoo and Gmail users may be getting hit by this scam as well.  If you have your own email at your own hosting account you may be less likely to see this email.  I believe it is only hitting the  free email services.
Who Is At Risk
First off anyone who has a hotmail, yahoo mail, or gmail account has the best chance of seeing this email.
If you are someone who doesn't have much of a technology background dealing with computers or any other form a technology.   Why these people?  Because people with a background in computers and technology will probably understand that this is a scam quicker than someone who doesn't.  This may not always be the case but it tends to go this way.
Finally, these scammers are looking for those that have a large list of friends to email as well.  This is of course how this scam spreads.
How Does The Hotmail Scam Work
Below is the version of this scam I have encountered.  Their may be other versions of this scam going around but here is what I have seen.
First, the scammer sends an email to you telling you to confirm your email details.  Look at the email example above.
Second, the individual sends their important email details to what they think is their email provider such as hotmail.
Third, the scammers now have access to your account and proceed to lock you out of your email account.
Fourth, the scammers send out fake email from your email address.
Fifth, the people on the list of person that got scammed receive an email along the lines that they are stranded in Europe and need $2000 to get back home.  In fact this is the type email brother receive from his client.
Sixth, normally when someone would receive an email like this they would instantly know it was some kind of scam, BUT now that the email is being sent in their real email address this makes the scam email look more legit.
What You Should Do If You Have Been Hit By The Hotmail Scam
Cancel any and all accounts you have set up in that email address.  Do that or change the email address to something else.    Do this especially with any accounts that you have linked to any of your financial information like amazon, paypal, ebay or any other account you send money to.
Call or get in touch with anybody that was on your email list and let them know about what just happened.  Tell them to stop using the email address immediately.
The bad thing about this scam it doesn't affect just you it effects everyone.  It works like a virus taking everyone with it.  If you should happen to get the email like I've show above discard it and report it as spam.
If you have more questions about this scam leave a comment and let me know.
Chris
Scam Free