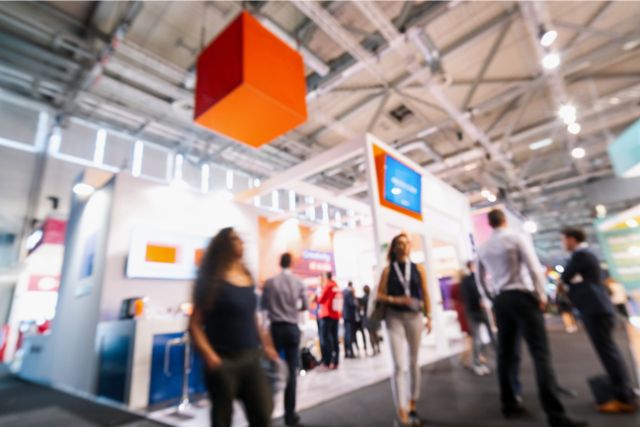 Trade shows are the ultimate platform for businesses to network, showcase their offerings, and carve a niche in the industry.
But with countless booths vying for attention, how can your business stand out?
Read on to discover how to design an unforgettable booth space that effectively engages attendees and promotes your brand.
1. Set Clear Objectives
Before delving into booth design and presentation details, it's essential to define your trade show goals. What do you want to achieve at the trade show?
Whether you aim to raise brand awareness, attract new clients, or establish your brand as an industry leader, your goals will guide every decision – from booth design to pre- and post-show marketing.
Your primary objective might be to:
Showcase a product: Particularly if its benefits are best demonstrated in person.
Network in a niche industry: Especially if there are few major players.
Elevate your brand status: If you strive to be perceived as a thought leader in your industry.
Once you've set clear objectives, you can tailor your booth experience to meet these goals.
2. Engage from the Get-go
Start engaging with potential attendees even before the show begins. Consider acquiring the pre-show registration list and connecting with attendees via emails and social media. This early engagement can pique interest and build anticipation for your booth.
3. Design a Space that Breathes
A well-designed booth is inviting, impactful, and reflects your brand's personality. However, designing a booth doesn't mean packing every inch with graphics and displays. Like in web content, white space is essential in booth design. It balances the visual elements, enhances appeal, and draws attention to your key messages.
Ensure your booth design includes the following:
Bold Colors: Bright, contrasting colors can accentuate key display elements and highlight important messaging.
Engaging Graphics: Opt for graphics that tell your brand's story and convey its unique selling proposition (USP).
LED Signs: A vibrant LED sign can instantly grab attention and create a memorable booth experience.
Interactive Elements: From touchscreens to games, interactive elements can promote engagement and make your booth stand out.
Remember to align your booth design with your brand's aesthetic and messaging.
4. Staff Your Booth Strategically
Even with a small booth, having enthusiastic and friendly representatives is crucial.
These representatives should be well-versed in your offerings and capable of handling any queries or objections from attendees.
5. Create an Engaging Atmosphere
Consider creating a relaxed social atmosphere to encourage attendees to spend more time at your booth.
Refreshments, snacks, or even custom cocktails can help break the ice and initiate conversations about your brand.
6. Leverage Your Booth's Location
Selecting the right location for your booth can significantly influence your trade show success.
Consider partnering with complementary businesses to increase booth traffic and provide a more comprehensive experience to attendees.
7. Offer Unique Giveaways
Handing out promotional items or offering giveaway prizes can greatly attract attention and leave a lasting impression.
Opt for high-quality, practical items that align with your brand's image and will likely be used by your target audience.
8. Incorporate Product Demonstrations
Live product demonstrations can be a game-changer for your booth's success. They allow attendees to see your products, understand their benefits, and interact with them firsthand.
9. Tell Your Brand's Story
Telling your brand's story effectively can set you apart from other exhibitors. This can be done through compelling graphics, engaging messaging, and brochures that resonate with your target audience.
10. Use Lighting to Your Advantage
Strategic lighting can enhance your booth's appeal and draw attention to key products or messages. Consider different types of lighting, such as spotlights, ambient lighting, or accent lighting to add depth and dimension to your display.
11. Design a Comfortable Meeting Area
Design a meeting area that reflects your brand image and encourages lively conversations. Choose furniture that aligns with your brand's aesthetic and creates a comfortable, inviting space for attendees.
12. Follow up After the Show
The end of the trade show is just the beginning of your relationship with the attendees. Follow up with attendees, thank them for their visit, and provide any additional information they might need.
Trade shows offer an incredible opportunity to showcase your brand and products, network with industry peers, and attract potential customers. By setting clear goals, designing an engaging booth, and offering an unforgettable experience, you can ensure your trade show presence is a resounding success.