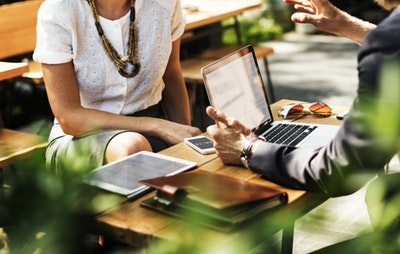 Taking the leap from being a solo entrepreneur, setting up a business to being an owner of a company that employs others and becoming a boss can be a daunting leap to make.
If you've only ever had to think of yourself and your own welfare, you may not have followed best practice as you struggled to multi-task and juggle the many things a business owner needs to cover on a daily basis. The good news is, being able to employ staff will bring a whole range of much-needed skills and talents to your business.
The downside is, in the short-term, there are a lot of new things you need to cover and make sure that you have in place, Handing over care of a part of your business to someone else can be challenging, and you also need to be fully aware of your responsibilities and legal requirements as an employer.
Make Sure You Carry Out Checks
While employing someone can be costly, employing someone only to find they aren't the right fit, or you made a mistake during the hiring process is even costlier.
Start by making sure that you have a very clearly defined role profile, including key skills that your new hire must have, and a list of interviewing criteria. You will also need to make sure that your prospective employee passes key checks such as the right to legally work in the country, and criminal record checks.
You will also need to arrange special checks if your employee will be coming into contact with minors. Finding the right people for the job is definitely difficult so if you're struggling, it may be worth finding a recruitment agent who specializes in the sector your company operates in.
You'll have to pay them a fee, but this can be a saving over hiring the wrong candidate, plus they will do a lot of the hard work in pre-screening and making background checks for you.
Providing a Contract
All employees must be given a contract that outlines their rights, your requirements, their usual duties, working hours, remuneration and working conditions.
This becomes legally binding from the moment that your new employees accept their job offer. The contract does not have to be a written document, although its usually preferable, but all employees must be given a written statement of employment within two months of beginning work with you.
You can only make alterations to the contract with the express agreement of your employee. Find a guide to employment contracts to give you more of a steer on what to cover.
Be Aware Of Tax Matters
With employing a member of staff comes a raft of tax implications that you need to make sure you have covered First, make sure that you are registered as an employer with the tax authority, and that your payroll is set up so that employees are having the correct deductions taken from their salaries.
Payroll data must also be submitted to the tax body each time that you pay your staff. A good tax resolution and accounting firm should be able to guide you through this process and ensure that you are all set up correctly.
Make Sure You're Covered
Getting the right insurance cover becomes incredibly important when you have a staff to take into considerations. An employee could make a claim against your business if they get injured or fall ill on the job. Employers Liability Insurance is an absolute must to cover you in this scenario – the benefits from this type of insurance can be significant, and if you fail to get the correct cover the consequences could spell the end of your business.
Any business trading as a Limited Company is legally required to have insurance The only firms who do not require this cover are those that are not incorporated, or that only employ family members and are not a limited company or only employ others on an ad-hoc, no-contracted basis.
However, businesses in these scenarios are still better off if they're covered – the financial security of your business is at stake.
Compensation claims can be hugely damaging to small businesses that find themselves having to pay out for legal and medical costs that can spiral.
There is also the possibility of historic claims arising years later as medical conditions develop, as occupational illnesses can take a long time to develop, so make sure that you keep records of past policies.
What happens if it doesn't work out?
Despite your very best intentions, sometimes an employee doesn't work out. You may have simply taken on the wrong person to support your business, or people may not be all they appeared to be at the interview stages, no matter how carefully you screen them.
Employment legislation covering terminating a contractor conducting a dismissal is very complex. You will need to take utmost care to ensure that you handle any dismissals transparently and fairly and that you keep records of the entire process, as unhappy ex-employees can decide to take you to an employment tribunal.
These usually involve disagreements over dismissal and the circumstances surrounding it, disputes over pay, or matters of discrimination. By handling matters correctly, you can reduce the chances of this happening to you.
Find The Right Moment
Despite the potential pitfalls, hiring is an exciting time for the business. Having extra resource is vital for expanding and taking on more projects, and also for making the most of critical market timing.
You need to make sure that person you are employing has the capacity to generate income for the company and support its growth – critical activities can include staff to help develop a product or service, those who can help you market what you need to sell, or provide a function such as a customer service.
A good way to dip a toe into the water can be hiring a contractor on a short-term basis that you could look to transition into a full staff member once the value of their role has been proven.
While employing others brings a lot to think about it, it is the first real growth stage of a company, so should be a cause for celebration. Freeing yourself up to think strategically and drive your business forward is real progress – so embrace this new stage in your development.
Are you taking on your first employees?  Share your thoughts, comments, and ideas below.
Cheers!