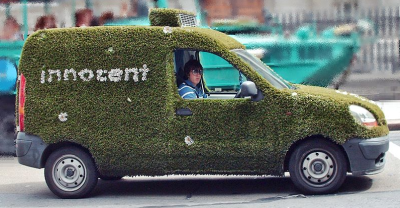 Marketing is essential if your business wants to make the green. But, did you ever think that going green would be the lucrative answer?
Eco-friendly methods are all the rage in the 21st century, and with good reason. However, there are many entrepreneurs and business leaders who don't invest one-hundred percent. If you are one, there's a good chance you are losing out from a marketing perspective.
Customers love companies that help the planet, and they will spread the organic word. With that in mind, here's how to make like a tree and branch out into the world of green.
1984
If you don't think George Orwell's cult classic has anything to do with marketing, you are wrong. 1984 is a story about state surveillance and the prophecy has come true.
Okay, the CIA may not be listening to your calls, but your base is watching you closely. In fact, they have the eyes of a hawk and will scan for discrepancies.
As a result, you should walk the walk and well as talk the talk. Driving around in a diesel-fuelled car, for example, isn't healthy for the planet. So, any company cars should be electric or at least have hybrid engines.
Act as if everyone is watching and you'll maintain high standards.
Responsible Consumption
Being a green business isn't about developing eco-friendly tech but increasing its lifecycle. Energy-efficient light bulbs are great yet don't help much when they run out and the glass needs disposing of properly.
Therefore, it's vital that you consider how long a method will last before investing. Online marketing is easy because it's digital, whereas offline has its pitfalls.
However, magnetic banner hanging systems can be useful. Thanks to the magnetic field, there are no harmful chemicals, plus the banners can dangle for months. Even better, you can keep the frame and change the message.
Transparency
It's not enough to say you are green; you have to present the evidence. Rightly or wrongly, customers are gullible and won't believe everything they see or hear.
Consumers want proof and they won't give you their trust until they witness it with their eyes. The first step is to provide details of products and services and business practices.
With a clear trail, it should be straightforward for your base to understand the supply chain and its impact on the planet. Also, don't neglect to report on the pros and cons of the firm.
Highlighting strengths and weaknesses makes customers happy as they hate companies that hide bad news.
Jump Into Bed
But not with a stranger. Third parties are excellent sources of credibility, especially if they are reputable. Still, you can't pick the first 'green' business that springs to mind because they may be a bad choice.
For instance, they may be lying about helping the environment. The key is to go with an external company that you and the business's base trust, such as Greenpeace.
Can you think of any better ways to market without harming the planet? Get in touch and have your say.