Earning easy money during your spare time may seem impossible.
But with our increasingly tech-reliant world today, there are many compelling options to make 'beer money' consistently without employing conventional job-hunting methods.
So, if you're looking for a good-paying side hustle, online survey websites are worth considering.
Are paid survey websites legit? Are they worth it?
This article will explore what online paid surveys are, how they work, how to stay away from scam surveys, and some essential tips when you want to earn from these platforms.
What Are Survey Websites?
Essentially, survey websites house a vast collection of different surveys for people to take, giving survey-takers a financial reward as a token of appreciation and to compensate for their time.
Signing up on these platforms and answering online surveys is an excellent way to earn some extra cash, whether you're taking the bus to work, waiting in line, or during your free time.
Surveys are highly targeted to a specific audience. Various factors can affect your survey opportunities, such as your age, location, annual income, the field of work, and more. This is why some surveys will not allow you to proceed in completing them.
Additionally, survey websites pay differently. If you're looking for high-paying survey websites, you can visit prizerebel.com and similar websites recommended by fellow survey-takers. Take note that your rewards increase as surveys become longer and more difficult.
How Do Survey Website Payments Work?
Random people on the internet can earn money from merely taking surveys for marketing firms' research purposes. As you might notice, most, if not all, surveys are heavily connected to specific brands and products.
These marketing firms encourage people to become part of focus groups or answer online surveys, and there's nothing wrong with that as long as they've sought your permission. Surveys can also be accomplished offline by participating in in-person or face-to-face surveys. Many people even earn consistently with these paid survey taker jobs.
Your monetary rewards come from the marketing companies' research budgets. After completing a survey, the corresponding cash reward will be credited to your account on the site.
Survey websites typically have minimum payouts, encouraging people to answer more surveys and waiting for weeks to months before withdrawing their money.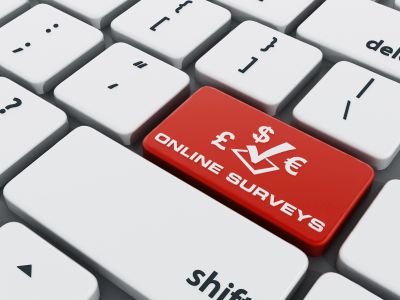 Differentiating Legitimate Online Paid Surveys From Scams
As survey scams can easily disguise themselves as legitimate survey providers, it can be challenging to determine legit survey websites from frauds.
To steer clear of these fraudulent activities, here are some red flags to watch out for:
Phishing scams using surveys to collect personal and banking information
No privacy policy provided on the website
Double-check the website's address link to spot domain spoofing
Asking for payments before answering the survey
Long pre-qualification surveys asking for more than just your basic information
Tips To Earn More From Survey Websites
While survey websites are fun and easy ways to generate extra cash, you can't earn thousands of dollars overnight. In some instances, there will be no available surveys for you in a long time.
If you want to make the most out of your time by earning more, here are some handy tips:
Complete all information fields in your profile
Be truthful and consistent with your answers
Open survey qualification emails early before they expire
Be a regular survey taker
Refer your friends
Bottom Line: Are They Worth Your Time and Effort?
Participating in paid online surveys is definitely a worthwhile method to earn extra money during your free time.
The more surveys you answer, the higher your rewards will be, enabling you to withdraw your earnings.
As long as survey taking isn't interfering with your regular daytime job and responsibilities, it's worth spending your spare time on these small productive, money-generating activities.