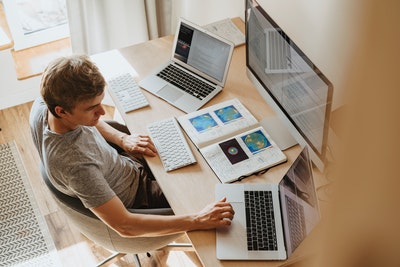 Promotions often lead to more money, increased responsibility, and a higher work ethic.
If you want to improve in your career, a promotion should always be a goal of yours that you work hard to achieve.
There is never a rush, but the sooner you start thinking about it, the more likely it will happen to you.
No matter your job, whether you work for the transport sector like Eplogistics.com or a media agency, promotion is always something to strive for.
Below are five tips for getting a promotion.
1. Make yourself indispensable
If you work with someone who you look up to and think, "Wow, he/she is so good at her job" chances are you consider them as indispensable. The aim is to try and be that person.
The characteristics of someone indispensable tend to be hardworking, determined, and a team player. If you are doing a good job, your manager will not want you to leave and will do their best to keep you, including offering promotions and pay rises.
To be this person, work hard and make sure you always go above and beyond. It may take some time, but the harder you work, the more likely it will be you.
2. Keep Learning
As the saying goes, knowledge is power. Why not enroll in an online course and develop your expertise within your industry?
The more knowledge you have, the better you can be at your job, which could put you above the next person when a promotion is due.
By consistently training and investing in yourself, you are always improving and showing your employer you care about what you do and want to improve.
Depending on the type of company you work for, you can always ask them to pay for your training courses as it can benefit the company substantially.
3. Don't Just Hit Your Target, Beat It
Target driven roles like sales jobs are easy to quantify how well you are doing because you are aiming for a certain target. Instead of trying to reach this target, aim to beat it.
Aim to go so far beyond it that your boss has no choice but to offer you a promotion. If you are commission-based, this will also mean you will bring in a bigger income and, hopefully, once promoted, a bigger salary as well.
If you aren't target-driven, ask your manager to set some KPI's that you can work towards in order to get a promotion.
4. Go Above and Beyond
Do you aim to just get your job done, or do you stay late and work hard to impress? By going above and beyond, your employer will see this and know that you are dedicated to your career.
This could lead to an increased chance of promotion. If you are clock watching and leaving as soon as the clock hits five, chances are your boss knows this and is less likely to rely on you when they need to.
This may also lead to your boss giving you extra tasks and responsibilities to see if you can handle them before offering a promotion.
Make sure you document what you are doing and regularly send it over to your manager so that they are aware of the tasks you are achieving. Sometimes if they don't micromanage, some tasks will get missed.
5. Don't Be Afraid To Take Charge
Leadership skills are something many employers will look for when offering a promotion. This is because promotions often require you to take on more responsibilities, which often include managing a team of people.
If you aren't a confident leader, your boss may be less likely to consider you when a promotion comes up. To be a good leader, make sure you listen to your team, believe in your decision-making, and communicate as efficiently as possible.
Not to worry if you are nervous about taking charge, most people are, but with practice, you can get better and become a good leader.
Overall, getting a promotion isn't easy as it takes some time to be consistent and continually trying to show people how good you are. That said, it doesn't matter who you are; as long as you work hard enough, anybody can get a promotion at work.
As long as you are working hard and making your manager aware of the work you are doing, you may be in for a promotion at any time.
Above are five tips to follow; however, with some more research, you will come across even more information that can help you throughout your journey.