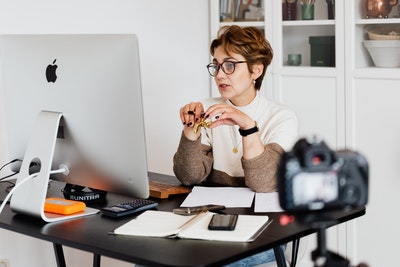 Since the entire world transferred to the digital realm when 2020 started, the internet has been flooded with marketing materials for various products, services, and businesses.
The internet has been inundated with digital marketing and advertising for about a decade now, but COVID-19 has advanced the situation in unprecedented ways.
There's no denying that the digital landscape is incredibly saturated right now, and it's a challenge for smaller entrepreneurs, business owners, and platforms to get their voices out there.
But there are some things you can do to promote your business, especially if it's an online class or tutoring, or a webinar. Here are some tips and pointers to promote your online classes and expand your reach.
Treat it like a business or a product launch
Treating your online classes like a business or product launch will allow you to set S.M.A.R.T. (specific, measurable, attainable, realistic, and time-bound) goals.
At the same time, it can help you craft a marketing plan that will help you achieve those objectives. Here is a basic marketing plan that you can follow:
Conduct simple market research and competitive analysis. Is there a need or a demand for your online class or course? Who are your competitors? Who's your target market, and what are their demographics, values, and internet and spending habits?
After you've discovered answers to these questions, create a list of marketing objectives. An example of a S.M.A.R.T. goal is, "Three new students by the end of next month." Then your marketing plan and calendar should be designed to achieve that goal.
Now that you know your audience and how to reach them, use the wealth of information you've gathered to get through to them. If you find that your target demographic is compelled by good design or engaging stories, take those facts into account when creating your marketing plan.
Seek help from your design-savvy friends. If you have friends who have a penchant for graphic design and know what looks good and what stands out, don't hesitate to employ their services. It may be costly, especially if you're starting with your online teaching, but it's a worthy investment in the long run.
Come up with posts, stories, and other short videos to help promote your skills and your legitimacy as a teacher in this field. For example, if you're promoting online dance classes or piano lessons and courses, take a video of yourself dancing or playing the piano and use it as a 15-second teaser on your social media platforms to give a glimpse of what you're capable of.
Don't hesitate to cold message or e-mail, but be sensitive towards the plight of those you're messaging. Be careful with the words you use, and don't hard sell.
Leverage your qualifications
If you are a board or license-certified professional in your field or have obtained specific degrees and other certifications, don't hesitate to mention this in your promotional materials.
It will lend you credibility as a teacher, give you an edge over other online teachers who don't have your credentials, and will provide people more incentive to check out what you have to offer.
Talk about the benefits of taking your classes or course.
Since the pandemic has started, people who have more resources have desired to learn new skills.
Whether it's learning a new language or a new instrument, people who find themselves having more time can now focus on extracurricular activities that can enrich their lives and add value and meaning to their days.
While it's true that times are hard, and we need to be sensitive to the plight of the suffering and to acknowledge our own, there is still room for pandemic productivity.
For one, finding new hobbies or learning a new skill that interests us can be good for our mental health.
It's not toxic positivity to provide people with an opportunity to find something that interests them and give them pockets of joy even throughout a terrible year.
Partner with other people in your industry
If there are people in your industry who share your vision, partner with them through a live video conference or a podcast to discuss your field.
Get other people involved in your project and allow them to help you soft-sell your skills by talking about the benefits of learning your specific skill set or talent.
Believe in What You Have to Offer
If you believe that you have something to offer to those who want to learn more about your craft or skill, don't hesitate to use it as an additional income stream.
There are plenty of people who want to learn new things even during this pandemic, and you can help them achieve those goals.