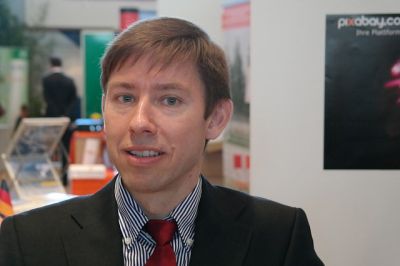 Trade shows and exhibitions are an excellent way to promote your business, increase your customer base, and expand your professional network. Every industry has dedicated events taking place throughout the year, so there are plenty of opportunities to make your mark.
Of course, you'll only be able to make the most of the opportunities available if you showcase your brand effectively. How you choose to present your business at exhibitions sends a clear message to your target audience, as well as your competitors.
If you want to generate more value from your presence at exhibitions, check out these top tips and start preparing to ace your next trade show…
#1 Start a countdown
Appearing at a trade show doesn't mean doing minimal prep until the day itself. In the same way, you'll want to prepare your merchandise, presentations, and equipment, it's important to focus on hyping up your audience too. Whether you're attending an event for industry insiders or a trade show for potential clients and customers, take the time to make sure people will be actively seeking you out.
Make them part of the upcoming appearance of your content strategy and share details of where you'll be exhibiting and what you'll be showcasing. This will inform and entice other attendees to engage with you on the day, so you can start maximizing your results months before you get back on the road.
An excellent way to ensure people connect with you at trade shows is to offer them an incentive. When you're promoting your next exhibition, offer a discount code, voucher, or free product in return for email signups. By giving your target audience a solid reason to visit your exhibition, you'll increase the amount of engagement you generate.
Furthermore, this approach will enable you to expand your customer or client management and add more targets to your database. With a timely reminder just before the event, your promotions and events staff will be busier than ever at the next big show. Showcase
#2 Showcase your brand
No matter what size exhibition stand you choose, it's vital to put it to good use. Companies can maximize their results by using innovative marketing materials to stand out. At consumer shows, for example, you're going to be surrounded by your competitors. If you want to catch the eye of your target audience, you'll need a showstopping set and an original concept.
Of course, whatever concept you choose should reflect your branding. You may be promoting a particular product or service but remaining true to your core brand values will always stand you in good stead.
Remember – this may be the first experience some attendees have of your brand. If you want them to remember your name, you'll need to ensure your sets, stands, and marketing materials complement your branding perfectly.
When it comes to designing exhibition materials, there are a wide variety of options. Whether you're managing your events in-house or using an external team of specialists, be sure to use bespoke materials wherever possible. Take a look at the personalized tablecloth ultimate guide to see just how easy it is to create a spectacular custom exhibition space, regardless of your budget. With the right mix of bespoke materials and innovation, you can ensure your brand takes center stage at any trade show.
#3 Give away promotional products
Promotional products are extremely versatile and appeal to a wide range of demographics, which means they're an ideal way to garner interest in your business. When you offer promotional gifts to exhibition attendees, you're giving people a reason to approach you and engage with your team.
When you're vying for attendee attention amidst a sea of competitors, being able to prompt engagement is critical to success. The lure of a free bag, pen, or USB stick is enough to entice guests to communicate with your promotions staff, at which point you have the chance to really sell your brand.
However, using promotional products at trade shows has a secondary purpose too. By giving away branded promotional items, you're increasing the brand awareness you gain from the event itself. Firstly, the recipient will be regularly and consistently reminded of your brand every time they use the promotional item. What's more, they'll be reminded of all of the positive attributes associated with your brand via your exhibition space.
Secondly, other people will see the original recipient using their promotional item and, therefore, be exposed to your branding too. If you give away promotional bags, for example, hundreds or thousands of people may see your brand name in the upcoming weeks.
In addition to this, the person using the brand will be unofficially endorsing your business and boosting your profile amongst their friends, family, peers, and colleagues.
#4 Use specialist staff
Attending a promotional event, such as a trade show, doesn't mean sending whatever staff you can spare on the day. While your marketing materials, design concept, and exhibition equipment can pique people's interest, you need engaging and well-trained staff to really capitalize on the opportunities you've created.
If you have an existing in-house events team, be sure to offer regular training and incentives based on performance. In addition to this, it's essential that your promotional staff are well-briefed on your latest products and services.
Attendees won't be impressed if the staff manning your booth can't provide the information they're looking for, so take the time to ensure the entire team are well-versed and confident in what they're saying.
If you don't have the resources to create an in-house events team, you may prefer to use a third-party company to promote your brand at events. This gives you access to the specialist staff you need, without the cost associated with hiring and training new staff.
More importantly, you'll be sure that your exhibition space is being manned by experienced professionals who are adept at promoting a brand, increasing engagement, and closing sales.
Planning Your Next Event
Every industry has numerous events to attend throughout the year, but this doesn't mean you have to show up at every one of them. Instead, plan your calendar carefully and invest your resources into attending events that can offer the biggest rewards.
By taking a strategic approach to exhibitions and trade shows, you can use them to successfully grow your business and increase your customer base.