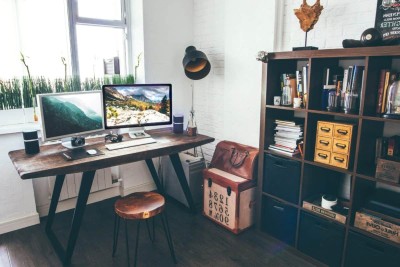 Working from home is a defining characteristic of the digital age. Recent studies have found that as much as 18% of people around the world work from home. In the US alone, there are an estimated 4.3 million people working from home full-time.
Many companies find that the option to work remotely at least part of the time is a big plus for employees. And, of course, if you do work from home, particularly full-time, it is very important that you have a pleasant and functional space in which to do so.
So here are a few points to bear in mind when you set up a home office.
First and foremost, your home office has to be functional
The first prize is if you have a separate room that you can set up as your office. But if this is not possible, there's no reason that you can't equip an area in an existing room very successfully as a good workspace.
With a bit of ingenuity, even very small spaces can be turned into very functional home offices.
These are absolute must-haves for your home office:
A functional desk, table, or workspace, with enough room to work and have all the things you need for your work conveniently to hand.
An ergonomically designed chair that is comfortable and will provide good back support.
The best computer that you can afford to rent or buy! It needs to give you the capacity to access and download all the software that you need for your job, give you good performance, and have ample memory. Computer rental is a good option to consider, as it ensures that you will always get the benefit of the latest technological advances.
A fast and reliable Internet and Wi-Fi connection as this is the absolute unmissable key element to working remotely.
While it depends on your business, a multifunction printer, fax, and copy machine can be a great asset.
Bigger Monitor.  With a bigger computer monitor, it will make things easier to see without squinting as much.
You will need good lighting
Utilize natural lighting as much as you can, not just to keep costs down, but to lift the mood of your workspace.
It is essential that you have good lighting, particularly over your immediate work area. You want to avoid working in the harsh, glaring light, so invest in a desk lamp or two, and soften the light with attractive lampshades.
If feasible, think of having some recessed lighting as well. The key is to have your workspace well-lit, but avoid having glaring lights that will place undue stress on your eyes.
A good filing and organization system for all your office paraphernalia
Filing cabinets and your normal run-of-the-mill office furniture are not necessarily the most attractive items on offer for the home office. This is particularly relevant if your home office is situated in a room in your house that is also part of your day-to-day living space.
However, don't despair – there are many alternative storage solutions that you can employ imaginatively and creatively that will do the job and will not jar with your other furniture.
Open or closed bookshelves work very well, as do chests of drawers, room dividers, and dressers – the possibilities are pretty much endless.
The main factors here are that your office files, equipment, and supplies must be neatly and efficiently stored so that your office looks professional and organized. This is particularly important if you are going to have video consultations or conferences with clients.
Have a phone that is dedicated to your business and is hands-off to the rest of the family
It's essential that your home office phone system says that you are a professional conducting your business with competence and efficiency. You emphatically do not want your six-year-old to answer your office phone and tell a client that 'Mummy can't come to the phone now, she's in the toilet'!
The level of sophistication of your office phone system will obviously depend on your business, but there is a wealth of options available.
These include functions like a virtual phone number dedicated to your business, a 'softphone' (software that allows you to make internet calls from your computer), an auto-attendant who will answer the phone if you're not available, and many more.
Make your home office a pleasant, warm, and inspiring place to be in
You are going to be spending an awful lot of time in your office, so make it as pleasant as you can. Bring in some color to lift your mood. Include a comfortable chair and footstool to sit and read reports, do some editing, jot down ideas, and have a welcome cup of coffee while you make phone calls.
Put some artwork on the wall, and personalize the space with photos. Bringing in some greenery in the form of potted plants and fresh flowers is a sure-fire way to make it a more rewarding experience to work there. You want your home office to give a professional impression, but that assuredly does not mean that it must be impersonal and sterile.
Of course, you want your home office to be a place that you can work in and generate an income. But it must also be a place that will spark your creativity, fill you with energy and help you to be productive and happy!
With the pandemic that we have all observed by this stage, humankind has been given a unique opportunity to try what remote working feels like.
Granted, this opportunity came as a long-anticipated move for a myriad of office employees that were actively looking for ways to persuade their bosses to let them be out of office (at least for a day or two to start with).
How did that feel?
It's hard to know at the moment as we will need more time to process the information and the results of this truly global "experiment" but…we already had something beforehand.
In fact, the team at Myergonomicchair created an infographic they called "8 Research-Based Remote Working Statistics".
They put together the key findings of several remote work-related studies and these results are quite…eye-opening!
Check out the infographic down below and scroll down for the stats breakdown.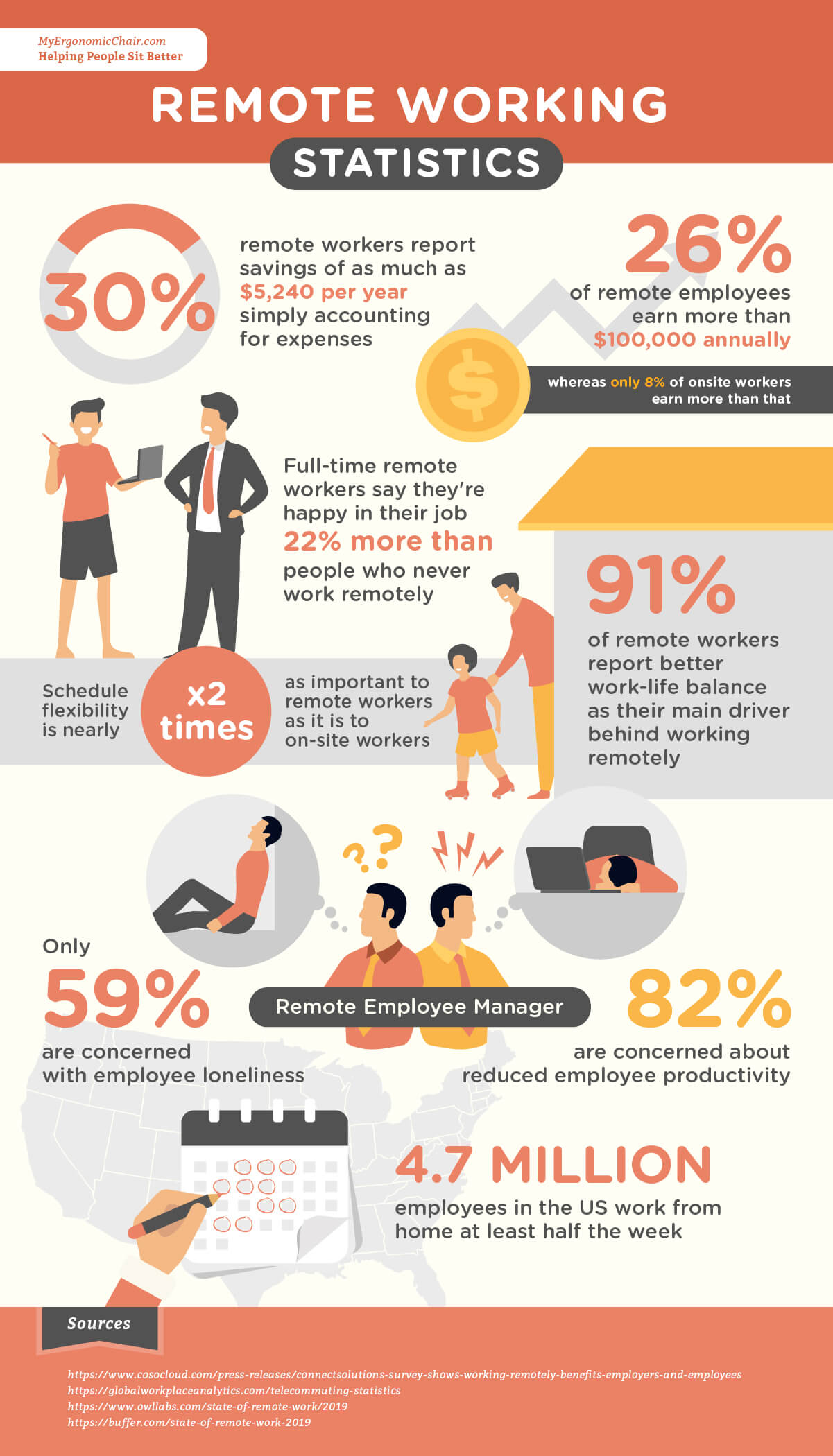 Remote Working Statistics
30% of remote workers report savings of as much as $5,240 per year simply accounting for expenses
26% of remote employees earn more than $100,000 annually whereas only 8% of onsite workers earn more than that
Full-time remote workers say they're happy in their job 22% more than people who never work remotely
91% of remote workers report better work-life balance as their main driver behind working remotely
Schedule flexibility is nearly 2 times as important to remote workers as it is to on-site workers
82% of remote employee managers are concerned about reduced employee productivity
Only 59% of remote employee managers are concerned with employee loneliness
4.7 million employees in the US work from home at least half the week